Experience Days Attempt a Charity Gift Wrapping World Record!
On Friday the 4th December, the team in the UK set off to Bournemouth with a mission; to break the World Record for 'the most presents being wrapped simultaneously'. After months of preparations and promotions, the big day finally arrived.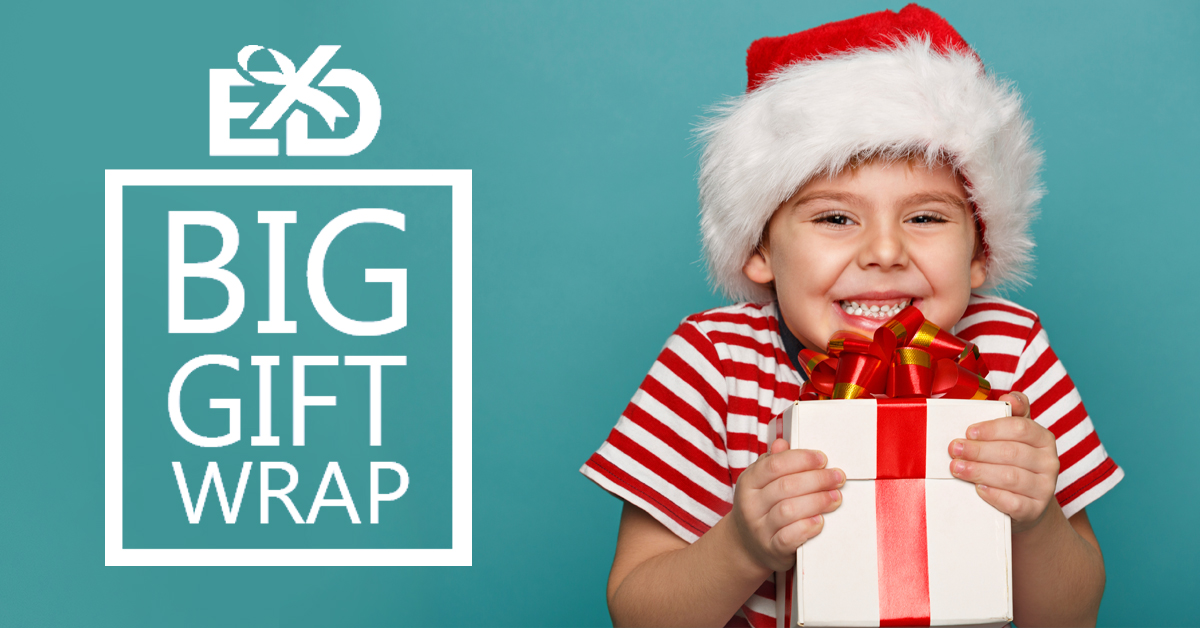 First stop; a quick dash to the local Radio station for a spot on the breakfast show.
Tom and Laura, two lovely representatives of Bournemouth University's Raising and Giving (RAG) and Volunteering Societies, had offered to take part in the interview. But this was no ordinary Radio show where a simple chat would suffice, Tom was to go head to head with the presenter in a wrap-off!
Following the radio show, the team arrived at the Citygate Centre to begin the mammoth task of unloading and unpacking 400 toys, all of which had kindly been donated by toy giant Mattel. With toys and boxes everywhere, it was like a scene from Santa's grotto!

Setting out tables and chairs for 400 people took some strength and organisational skills, and with only a few hours before the doors would be thrown open to the excitable public, time was of the essence.
By 4 o'clock everything had come together, and with each of the 400 wrapping stations equipped with a present, wrapping paper, bow, and Santa hat, it was time to begin.
All that was left was to prep all the fantastic stewards, time keepers and witnesses on their very important roles, set up the cameras, invite everyone in and let the magic unfold!

As the individuals were shown to their seats and the room began to fill, the atmosphere was amazing.The event really had brought people of all ages together in Christmas spirit.
"Are you ready to WRAP? I can't hear you, ARE YOU READY TO WRAP?!?!  3..2..1…WRAP!!!"
Steve Harris (BBC Radio Presenter) announced to the hall of eager volunteers, as they all set about quickly wrapping the present in front of them, resembling a scene of Santa's elves preparing gifts in his workshop.

Standing on the stage observing the festive scenario unfolding beneath, it couldn't have felt more like Christmas, especially once the Santa hats started popping up on the participants heads one by one signalling their completion.
With 6 seconds to spare the final ribbon was tied, the clock was stopped and it was over. Now the only question that remained was; had the World Record been beaten?!

Unfortunately there weren't quite enough wrappers to break the record, however nonetheless the event was a huge success, and all 400 toys were donated to Barnardo's Children's Charity in time for Christmas!
Carole Banton from Barnardo's Children's charity said: "Despite not breaking the record, it didn't matter as the event was still brilliant."
She added "Children and families in Bournemouth are going to really benefit from all this fantastic goodwill. Some of the children and families we work with are really struggling financially, especially at this time of year. We're really thrilled."

Knowing the achievement that day was all for a good cause couldn't have been more rewarding, and we're sure everyone that took part thoroughly enjoyed themselves.
We are so delighted to be able to help support Barnardo's this Christmas, and we hope that all those that receive a gift have a very Merry Christmas.
From the team at Experience Days UK – "Merry Christmas!"