Father's Day NASCAR Sweepstakes!
We all know how hard it can be to find the perfect Father's Day present. Dads are notoriously hard to shop for, which is why so many people end up panic-buying the tried and tested 'old favorites' – ties, cuff links, cologne…you know the sort! These aren't bad gifts, but most people want to buy something that shows just how much they care – something original, something that will also be treasured and enjoyed for a long time. So what to buy? Despite your best brain-racking efforts, sometimes you just come up short…and this is where we can help.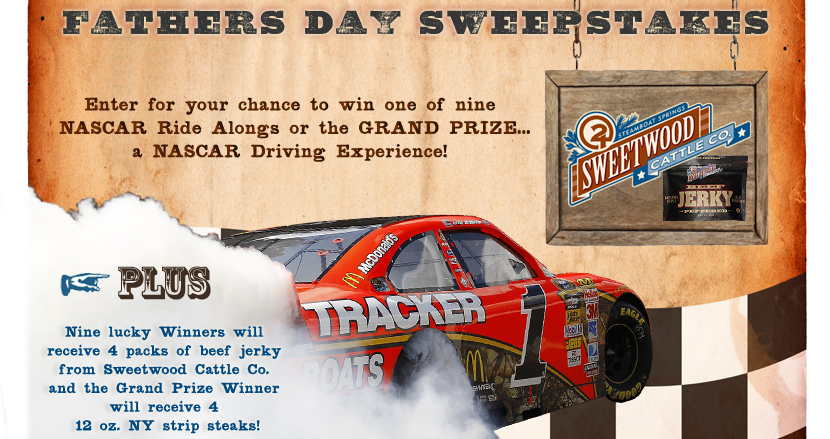 No matter how many 'things' you buy, the most memorable gifts are shared experiences, and you can't beat the satisfaction from giving a thoughtful, personalized present to the most important man in your life. There's no better way to show your appreciation to dad this Father's Day than with a Unique Gift Experience from Experience Days – particularly when that gift is a NASCAR driving experience! Who wouldn't enjoy racing around tracks in real NASCAR race cars with no pace cars and no lead-follow? A NASCAR driving gift offers an unforgettable and thrilling racing experience and is guaranteed to make your  old man very happy.
Enter our Father's Day Sweepstakes for your chance to win one of nine NASCAR Ride Alongs or the Grand Prize, a NASCAR driving experience! Nine lucky winners will also receive four packs of beef jerky from Sweetwood Cattle Company, the web's best provider of gourmet, grass fed beef that's perfect for giving or cooking at home. The Grand Prize winner will receive four 12 oz. NY strip steaks, so your dad is guaranteed a delicious and indulgent meal after his fantastic driving experience!
To enter, click on the link below. Hurry! Offer ends June 15!
Experience Days and Sweetwood Cattle Company Father's Day Sweepstakes