New Skateboarding Lessons at Xperience Days
To celebrate the launch of our new Skateboarding Lessons, we delved a little deeper into the age-old extreme sport, and what exactly you could expect from one of these great introductions.

Skateboarding originated in California way back in the 1940's as an alternative to surfing (when the
ocean was flat), and has continued to grow in popularity into the worldwide phenomenon that it is
today.The easily accessible board sport is now synonymous with the Extreme Sports world, having
shot to fame during the exponential growth of the 90's and you may have seen professionals such as
Rob Dyrdek and Tony Hawk effortlessly performing gravity-defying tricks on TV and YouTube.Well,
now you can take the first step towards skating like the stars with a fantastic 90 minute private
lesson from the expert coaches at Go skate -America's largest and longest established skate school.
This awesome introduction will be on a 1-to-1 basis, so it will be just you and the instructor for
the entire 90 minute session, giving you plenty of time to soak up the vast knowledge and skill of
the instructors with theory and practical demonstrations. The lessons are suitable for anyone, so
whether you're a complete beginner looking to dabble in a new sport and practice the basic tricks
such as the Ollie and Pop Shove it, or if you're a more experienced skater and are looking for some
in-depth advice and training to land that trick you've been struggling with; a lesson could be really
beneficial. You don't even need your own equipment as the school provides an option to rent
everything from the board to the helmet.
The beginner sessions focus on the core skills that are essential to ride a board, such as; Body
Position, Foot Placement and improving your general Skating confidence. It may seem trivial,
but learning the right place to have your feet early on will save you from a lot of painful falls and
frustrating fails later on – as it's important to avoid those bad habits wherever possible!
More advanced sessions would be tailored to your ability, so if there is a particular Grab or Grind
that you just can't seem to land – the instructors will be able to equip you with all of the theory and
practical advice you could possibly need to absolutely nail it!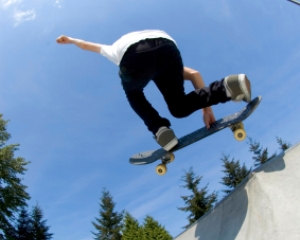 The sessions are run year round at local city skate parks in over 600 locations nationwide at a time
and date to suit you, so no matter where you are there will be a skate park nearby to learn how to
throw down some new tricks.
No matter where you are; your bespoke skateboarding lesson is never far away!