Unique Gifts for Father's Day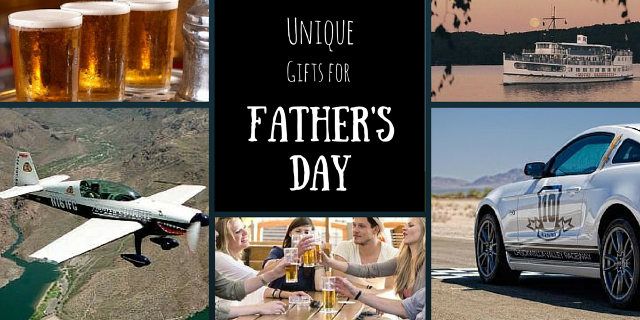 Do something special with your Dad this Father's Day!
Sometimes, we take our Fathers for granted. They're always there when we need them. Whether it's a pep talk when we're feeling down, or a few extra dollars when we're short for cash, it's nice to know we can turn to our Dads for help when it's needed.
Well, Father's Day is just around the corner (19th June – in case you've forgotten…) and it gives the perfect opportunity to show your Dad just how much he means to you. Check out our ideas for an experience gift that'll make this a Father's Day to remember!

Relax on a Lunch or Dinner Cruise
Nothing can beat the relaxation and indulgence of floating down a river or across a lake while you enjoy a delicious meal. We have a fantastic range of Lunch, Brunch and Dinner cruises that make an amazing way to spend some time with your Dad this Father's Day. Check out our cruise options here.

Father's Day Flying
Has your Father always dreamed of being a pilot? Or perhaps he has some flying experience and has always wanted to get back up in the skies? Well our flying lessons make extreme experience gifts that will make this Father's Day completely unforgettable. Purchase a gift certificate here.

Celebrate with a Beer Tasting
Who can resist one of life's simple pleasures – a nice cold beer? Here at Experience Days, we don't know a single Dad who doesn't love a beer or two, making our range of Beer Tasting experiences the perfect gift for Father's Day! Check them out here.

Make a dream come true with a driving gift
Has your Dad always loved F1? Or maybe he prefers Rally Driving? Or Off Roading?! Whatever type of driving your Dad loves, we have something to suit. With these fantastic experience gifts, your Dad will be racing around the tracks or powering through tough terrain, and will no doubt be extremely happy with his Father's Day gift! Have a look at the full range here.
Happy Fathers Day to all the Dads out there, we hope you have a wonderful day!
Can't find the perfect gift? Check out all our Father's Day gift ideas here.