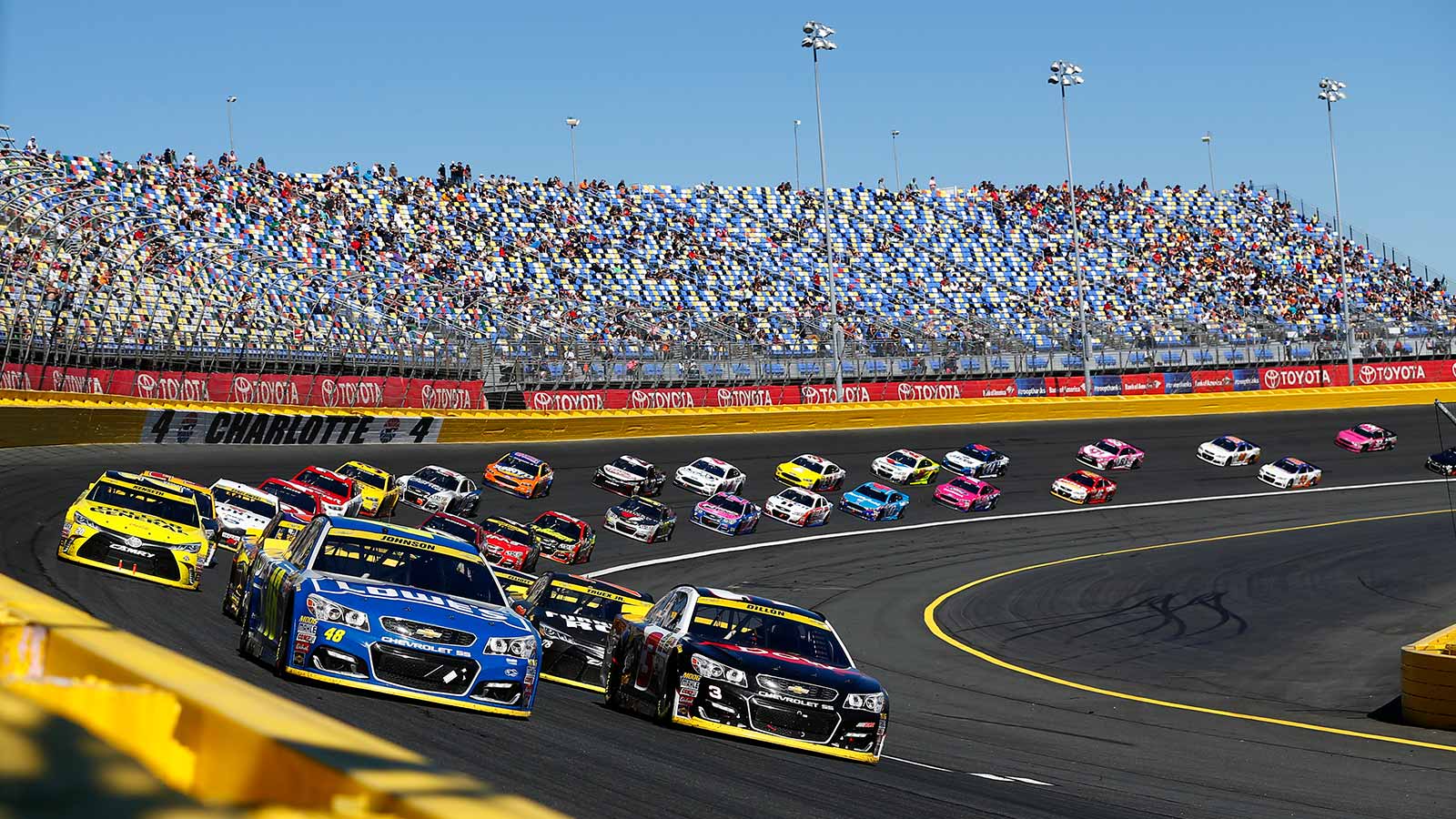 Drive a NASCAR Stock Car: The Rookie's Guide

Ain't nothin' like NASCAR – 'til you felt that thunder, you don't know sh*t.
- NASCAR Fan, 1984
Welcome to our Rookie's Guide to Driving a NASCAR Stock Car!
Here, we'll describe all the ways to drive a stock car – including some you probably hadn't thought of.
So, if you're a lifelong fan who dreams of getting behind the wheel – you're in the right place!
Drivers, start your engines…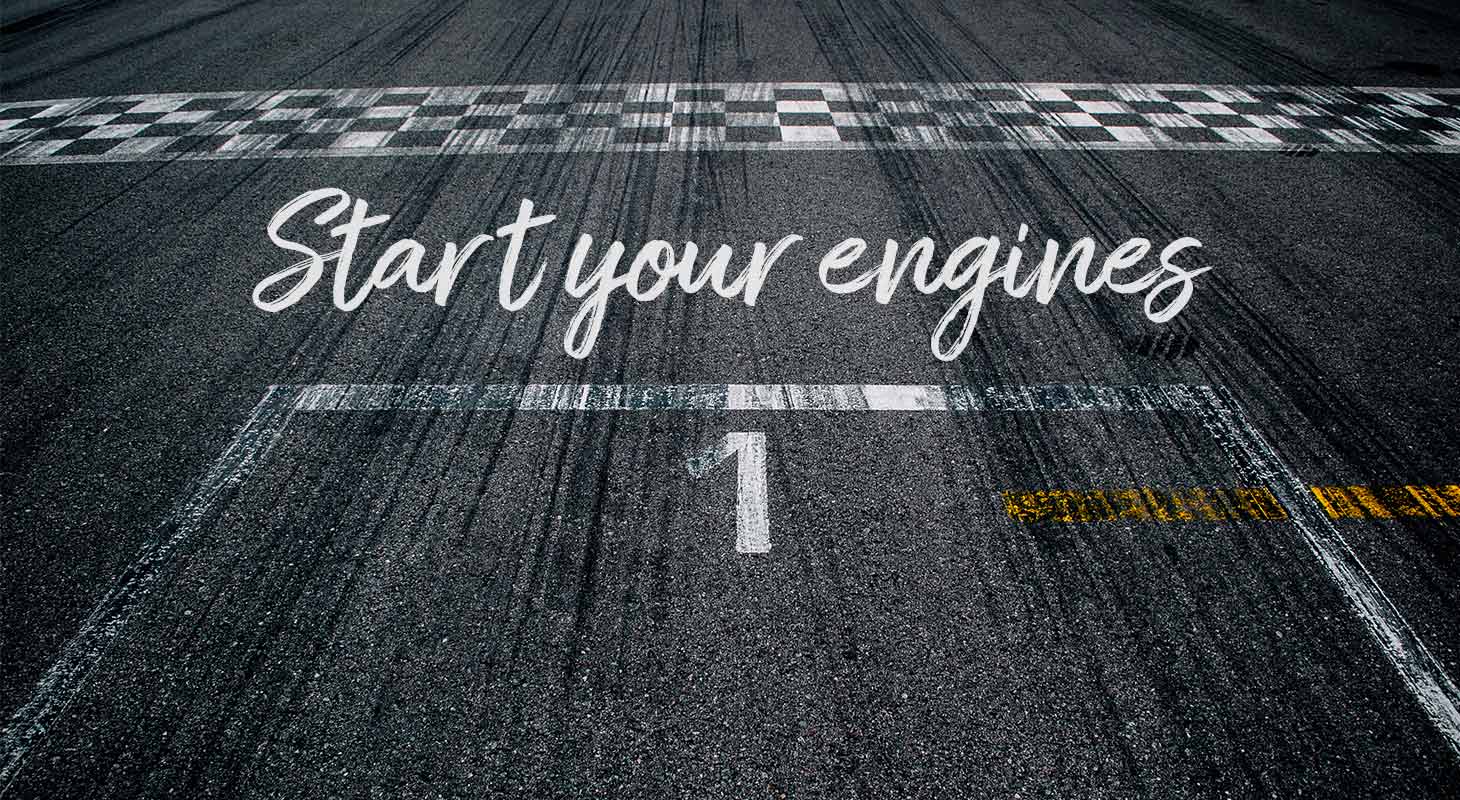 NASCAR: Then and Now
Before we discover how you – yes, YOU – can drive a stock car today, let's take a quick look at the history of NASCAR.
Cue flashback…
A hush came over the Ebony Club bar of Daytona Beach's Streamline Hotel.
Around the table, the assembled group of racers, promoters, mechanics, and bootleggers finally fell silent after sixty-nine day's lively debate and discussion.
Bill France Sr. had gathered them here to outline his vision of a unified sanctioning body for American stock car racing – one which would hold its drivers' best interests at heart.
This was the birth of NASCAR – the National Association for Stock Car Auto Racing.
Few of those present – even Big Bill – could have predicted what their consensus – the details of which were scrawled hastily on bar room napkins – would lead to.
NASCAR has come a long way from its Prohibition-era origins – when daring bootleggers ran moonshine in souped-up sedans.
Modern technology has made it faster, safer and more competitive, while major corporate investment boosts the franchise's value beyond even the dreams of its founder.
Since its inception, generations of drivers have fought for position round the nation's fastest ovals – Daytona, Indianapolis, Talladega – and thrilled some of the largest audiences in sport.
Its seventy-year history has witnessed legendary events and colourful characters; photo finishes, track-side punch-ups, and a race-winning rhesus monkey, called Jocko Flocko.
Big names, like Petty and Earnhardt, are revered by fans nationwide, as are the iconic machines that bore them to victory.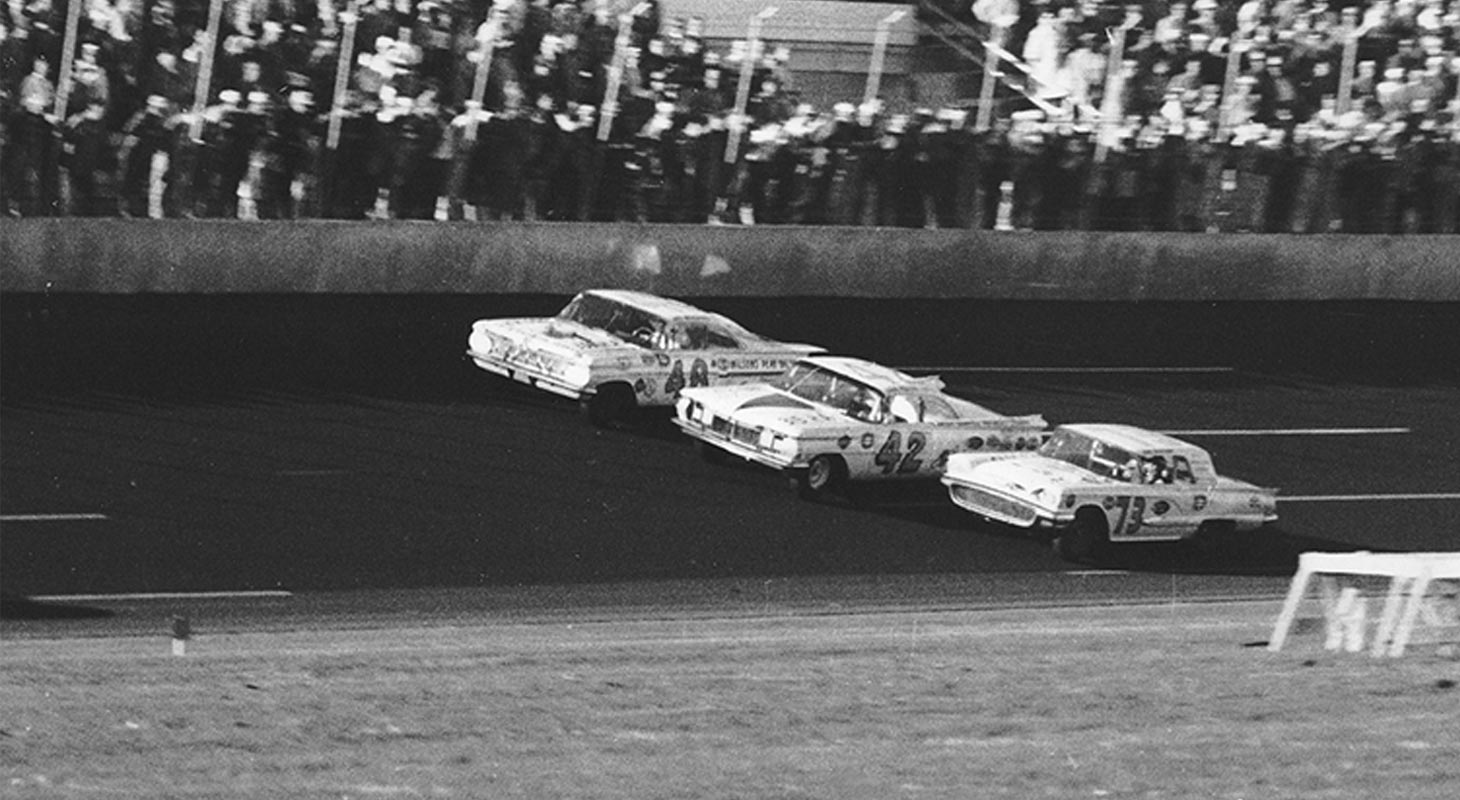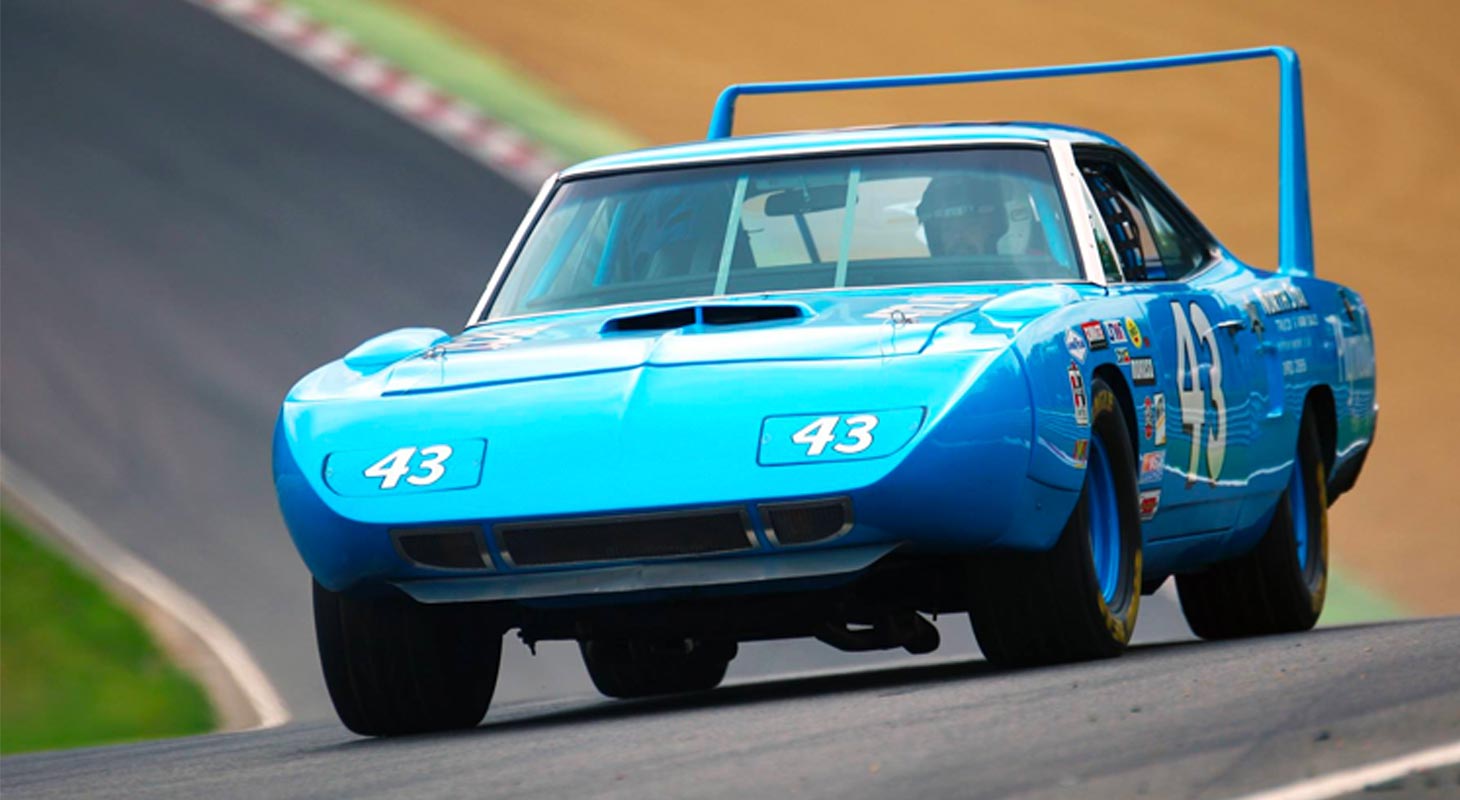 Now, that legacy drives today's stars in their bid for greatness, while pundits keep watch for the champions of tomorrow.
In 2018, the top-tier Monster Energy Cup Series comprises 36 races – starting with NASCAR's show-piece event, the Daytona 500, and ending at the Homestead-Miami Speedway, where the race winner claims the trophy.
The Generation 6 cars, introduced in 2013, produce over 850hp and regularly exceed 200mph. Unlike their generic predecessor, the so-called Car of Tomorrow, the three manufacturer's models are now easily distinguishable – more closely resembling their showroom counterparts.
For race schedules, current standings, or a closer look at the Gen-6 vehicles, head to the official NASCAR website.
If you're reading this article, you're probably already familiar with NASCAR's current format and key players. You know its heritage, and remember some of the moments that have defined it.
But what's it actually like to drive a modern stock car?
Well, you won't find that out from the couch or grandstands…
Driving a NASCAR Stock Car – What's it Like?
Happily, there are plenty of ways to experience the thrill of NASCAR for yourself, and we'll outline some of them shortly. Firstly, however, let's hear from a few drivers who've already been there, done that…

Not many people have been behind the wheel of a machine that's built to test the very limits of physics… imagine driving as fast as you can on the highway and doing it for hours, without letting up. And that entire time, you need to stay completely focused on everything that is happening both inside your car and on what's going on all around you.
- Joey "Sliced Bread" Logano, 2015 Daytona 500 Winner, for The Players' Tribune

They don't accelerate or brake fast. They're slower, so everyone's together. It makes racing more fun. And you can just beat them around, because they're not responsive—or they respond very late. It's like driving a boat. The car didn't even know I was there. It's really exciting…
- Scott Speed, Former F1 and NASCAR Driver, interviewed in Car and Driver

The real-deal NASCAR experience was a seat-of-yer-pants action ride unlike anything we've ever experienced on four wheels.
- Mike Lowe, Journalist, for Pocket-lint

The ride kicked ass.
Andrew Heskett, Xperience Days Customer, after his Kansas Speedway NASCAR Ride Along
Whoa, if those first-hand accounts don't have you sold – we don't know what will! One thing's clear – driving a stock car is a rare and rewarding challenge, whether you're a newbie or a pro.
So, without further ado, let's find out how you could meet that challenge, today…
How Can I Drive a NASCAR Stocker?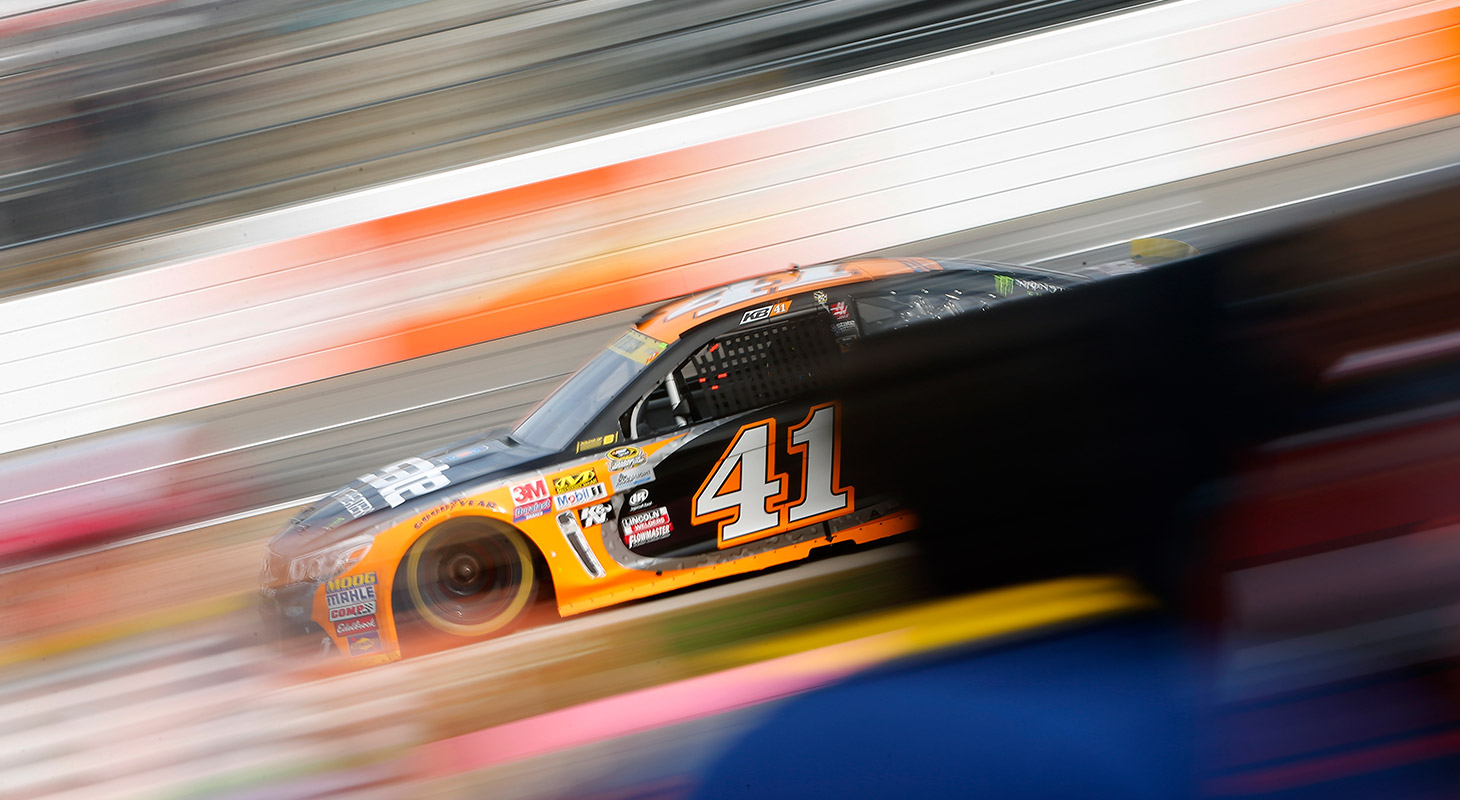 1. NASCAR Experiences & Vouchers
It's easier than you think! One-off driving days are held at iconic tracks across the country. These allow drivers to put genuine NASCAR racers through their paces, under professional instruction.
The format differs from venue to venue, but – ultimately – the depth of your pockets will determine whether yours is a white-knuckle blast of just a few laps, or a once-in-a-lifetime, fifty-lap coaching session. Either way, you'll get to experience mind-blowing speed on a familiar championship circuit – so what's not to like!?
Prices start from around $150 - $200, and cheaper 'ride alongs' are available to those without a license. Packages typically include full race suit and safety gear hire, a classroom briefing, and professional coaching while you complete laps of the chosen speedway.
NASCAR Driving Experience FAQ's
What sort of car will I drive?
You'll get to drive a real deal - NASCAR stock cars just like those you've seen on TV!
This can vary depending on the conditions, your ability, and the type of experience you've paid for. Taking these into account, your instructor will encourage you to go as fast as you are able.
Do I need a driving license?
Yes, you will need a license if you want to drive a stock car. Ride along experiences are available if you don't have one.
Do I need to drive a stick shift?
Yes, cars are fitted with a manual transmission, so some experience driving a stick shift is recommended. Instructors can provide extra assistance if it's your first time.
Yes, some experiences allow you to pass slower drivers - however, bumping is forbidden!
Of course, this is highly unlikely if you follow all instructions. Event organisers usually offer optional vehicle insurance which reduces your liability for any damage cost.
Are there any restrictions?
Race cars don't have doors, so drivers must be able to climb in through the window, around 35'' off the ground. Typically, you must be a minimum of 5' tall and under 6'4'' - 6'7''.
While experiences can be nerve-racking for those unused to stock cars – of course, they're seriously powerful machines – rest assured you'll be in safe hands! Still unsure? Then head here for one journalist's vivid testimony.
The most popular NASCAR driving days are endorsed by some of the sport's biggest names. If you'd like to emulate your racing heroes, check out both Richard Petty and Rusty Wallace's approved experiences, or visit Xperience Days for an extensive selection of NASCAR gift vouchers.
2. Buy Your Own Stock Car
If a few laps' drive-time just won't cut it, you could always buy your own stock car. That's right! Bear with us…
Granted, it's an extravagant decision, but – for those who can afford it – owning your own four-wheeled piece of NASCAR is surely the ultimate expression of fandom. Just imagine stepping outside your front door each morning to admire the gleaming race car on the driveway!
Now, there are a few options open to interested buyers. Short of purchasing your own NASCAR team – which, in case you haven't heard, is pretty darn expensive – you'd best look out for one of the following:
An authentic used stock car (not street legal)
A modified stock car (street legal)
A street legal replica
Which you choose will depend on what's important to you. Perhaps you're concerned with the car's racing pedigree? Or maybe you just want something that looks the part on your daily commute? Will your new car spend more time on the road, on the track, or under a sheet in the garage?
Whatever you're looking for, eBay's motoring section is a great place to start. Here, you can get an idea of what's available – and perhaps pick up a bargain! When we checked, we found a genuine Robert Yates #88 Snickers Ford Fusion for $12,100 and Jack 'Iron Man' Ingram's 1972 Chevrolet Monte Carlo for just under $46,000. If you've no such luck, further listings can be found on race-cars.com and cars-on-line.com.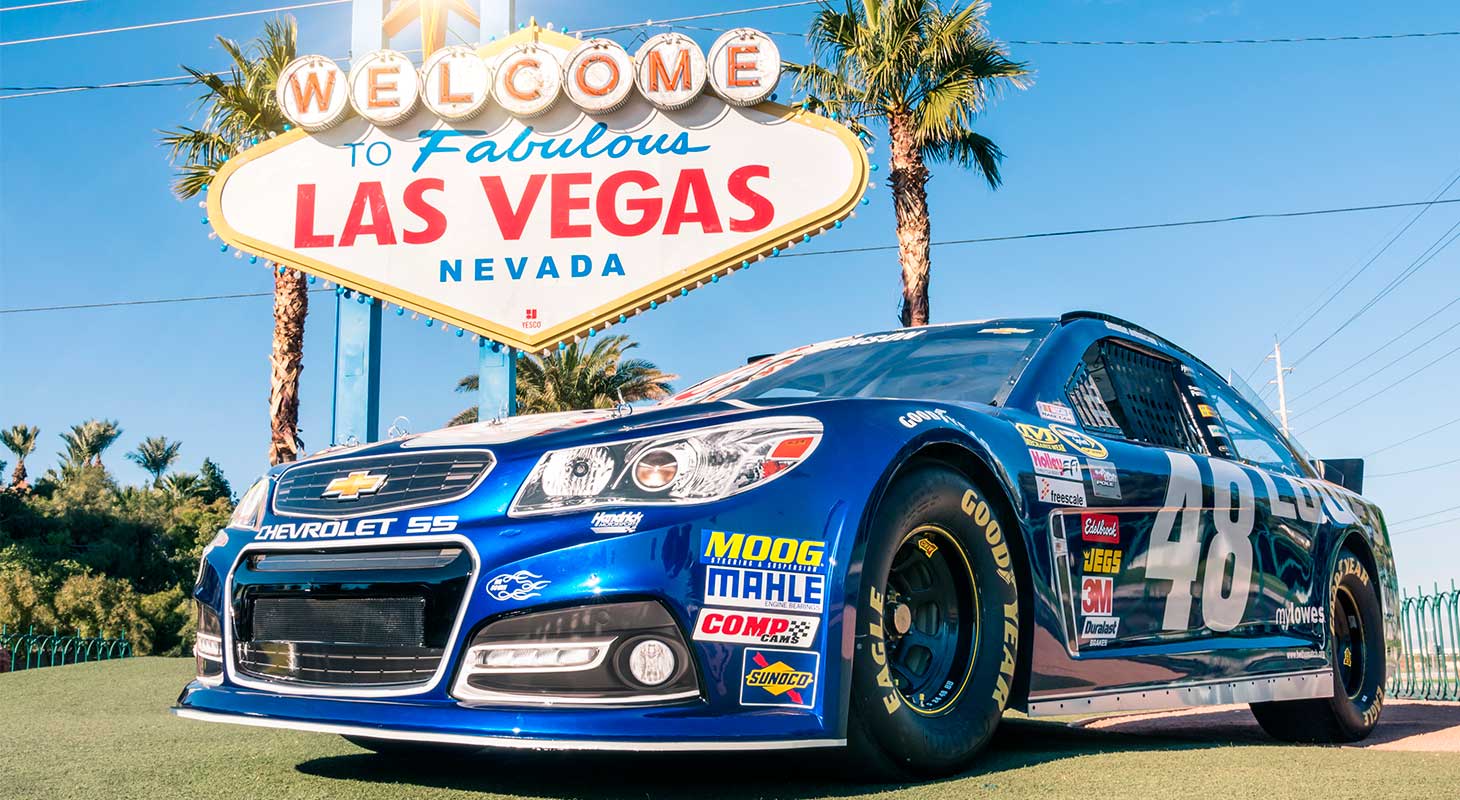 3. Build Your Own Stock Car
Okay, we know – obviously, this one's a huge undertaking. But hey, if you've the technical know-how and the right can-do attitude, building your own stock car could be a hugely rewarding project.
Of course, you'll need access to a sizeable workshop and tools, as well as a clear idea of what you're hoping to achieve. Just as you've options when buying a stock car, you've even more to consider when building your own. For example – what's your budget? Will you modify an existing vehicle, or build from the wheels up? Do you want to drive your vehicle on real roads, or tow it to the track?
If your plan is to build a street-legal racer, bear in mind you'll need to include plenty of extra features. That means doors that open, headlights, raised bodywork, non-slick tires, plus adjustments to the powertrain, suspension and exhaust systems – you'll either relish the challenge, or stop reading here!
More authentic builds will begin with a tube frame chassis and call for a front-engine, rear-wheel-drive layout, a low centre of gravity, and sheet metal or carbon fibre bodywork. Happily, it's possible to source real NASCAR engines and parts from specialist sellers, like 2ndChanceRaceParts.com – so yours will go like the real deal!
Feeling inspired? Build Your Own Race Car is a useful resource for those ready to roll up their sleeves. Let us know how it goes!
4. Become a NASCAR Driver
Want to drive a NASCAR stock car at full throttle every week? Simple – become a NASCAR driver, and enjoy fame and fortune while you're at it!
That's the dream, eh?
Alas, however, it's a long, hard road to that first green flag…
Most of today's top-flight drivers started young – really young. While most of us were content with crayons and a colouring book, they were tearing up the local kart circuit – recording early wins and gaining crucial race-day experience.
Promising kart racers generally graduate to real cars once they're old enough, and, from there on, success comes down to a combination of talent, money, perseverance, and luck.
Competition for places in NASCAR's elite club is fierce, so – whether you've ambitions for yourself or for Junior – here's a few solid tips for making the big time:
Immerse yourself in motor racing! Visit your local track, get a pit pass, talk to people, and race in as many competitions as possible
Study car mechanics – during races, NASCAR pit crews rely on their drivers' feedback, so it's vital you know the car inside out
Keep fit! Professional drivers are subjected to immense physical forces and must endure high temperatures for hours at a time. Improve your stamina and remain focused!
Work on your brand – sponsorship is crucial in NASCAR, so you'll need to make yourself an attractive prospect to those with money to spend. A good education helps.
Get a racing license – simply download the application form, here, and apply at your local NASCAR-licensed track
Put all this into practice, and you'll improve your chances right away!
A driver's rise to the top typically begins by winning their local track's championship series. Next, they might join NASCAR's Touring Series, before moving on to the Camping World Truck or Xfinity Series. Eventually, success here can attract attention from major teams in the sport's top-level competition, the Monster Energy Cup.
And there you are!
It'll take grit and determination to gain and retain your place on that starting grid. If you think you've got what it takes, we wish you good luck!
5. Become a NASCAR Sponsor
As we've mentioned, in NASCAR, sponsorship is key. High-level racing is an expensive business, and teams rely on their sponsors for funding. In return for their bucks, sponsors gain exposure to NASCAR's audience – some of the most brand-loyal consumers out there.
So, how much are we really talking to get your logo on a stock car? Well, this Business Insider graphic will give you some idea (prepare yourself – it ain't cheap!)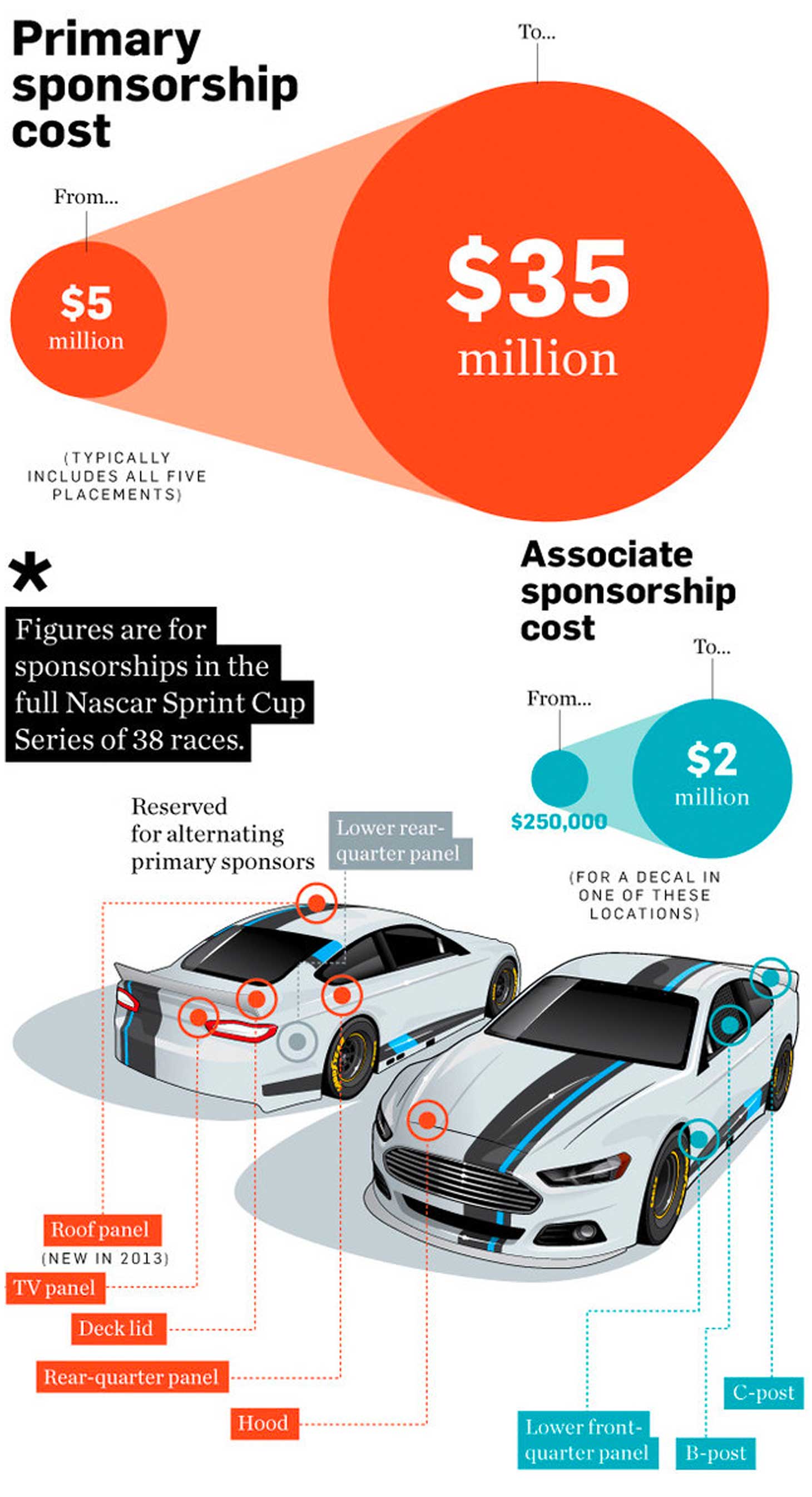 Companies can also sponsor races at track level. This gets your name in the event's title (e.g. the Coke Zero 400, at Daytona) and can include countless other promotional opportunities. Negotiate hard enough, and you could even wangle VIP tickets, a Skybox, and pace car rides.
Sponsors aren't typically invited to drive the cars they've helped pay for, but hey – if you're wallet's deep enough, anything's possible, right?
6. Have NASCAR in the family
Yes, it's no secret – NASCAR is a family affair.
Since the sport's earliest beginnings, prominent racing dynasties have dominated the field. The Frances, the Earnhardts, the Pettys, the Allisons, the Waltrips, the Flocks, the Woods – the list goes on! For some, family involvement spans four generations; shaping NASCAR history from the track, pits, workshop, commentary box, and boardroom.
Naturally, for readers who aren't lucky enough to have NASCAR in their blood – i.e. most of you – this offers little in the way of practical advice.
Never mind, however.
Instead, let's remember a touching, familial moment from 1993 – when jubilant commentator, Ned Jarrett, called his own son, Dale, home to victory in the Daytona 500:

Come on, Dale! Go, buddy, go! All right, come on! I know he's got it to the floorboard; he can't do anymore! Come on! Take 'er to the inside! Don't let 'em get on the inside of you comin' around this turn! Here he comes, Earnhardt; it's the "Dale and Dale Show" as we come off Turn 4! You know who I'm pulling for, it's Dale Jarrett. Bring her to the inside, Dale! Don't let him get down there! He's gonna make it! Dale Jarrett's gonna win the Daytona 500!!!
7. Become a Motoring Journalist / Rich & Famous
Now, back to something that's at least within our grasp.
If you fancy being paid to test drive cars all day, why not start a new career in motoring journalism? Who knows, you could even end up at the controls of a NASCAR stock car, just like Top Gear's Richard Hammond.
Of course, to get that far, you'll need a way with words, an in-depth knowledge of cars and motorsport, and an audience which car manufacturers/event organisers want to reach. It could take years of hard work and rejection to become an established figure – and, even then, NASCAR might not necessarily come a-calling.
As you'd expect, the likelihood increases as you command more influence. Just as influence (and money) opens doors elsewhere, it'll certainly improve your chances of driving a stock car. For proof, you can check out rich, famous, former Tonight Show host, Jay Leno, hitting the track, here.
8. Become a Hollywood Star

If you ain't first, you're last.
- Ricky Bobby, in Talladega Nights: The Ballad of Ricky Bobby (2006)
Given the sport's popularity, it's no surprise several films have sought to bring the NASCAR experience to the big screen. Over the years, cinema-goers have cheered on a loveable VW Beetle, an animated rookie racer, and even a helmeted Elvis Presley.
In our view, however, two NASCAR films stand head and shoulders above the rest. They are 1990's Days of Thunder and 2006's Talladega Nights: The Ballad of Ricky Bobby.
If you haven't seen them already, we highly recommend you do!
Both narratives follow the fates of talented NASCAR drivers – played by Tom Cruise (Days of Thunder) and Will Ferrell (Talladega Night) respectively. Cruise's Cole Trickle is typical of the actor's earlier heroic roles; brilliant, naive and rambunctious, whereas Ferrell's Ricky Bobby is among the comedian's most memorable fools.
Both films feature scenes shot on real NASCAR circuits, including Daytona and – you guessed it – Talladega, and, although most of these were filmed with professional drivers behind the wheel, the films' stars weren't left out entirely.
The cast of Talladega Nights, for example, were coached by the instructors at the Richard Petty Driving Experience. Actors were taken round the track at 180mph – an experience Sacha Baron Cohen, who plays villain Jean Girard, described as one of the most unpleasant of his life!
Having previously been introduced to NASCAR by fellow actor Paul Newman, Cruise was even more involved on set. During an early shoot, he reportedly destroyed a $100,000 camera when his car grazed a track wall at speed – evidence, perhaps, that Hollywood stars should leave racing to the experts!
9. Drive a Stock Car Abroad
NASCAR: it's as American as apple pie.
Still, throughout its history, several attempts have been made to reach a wider international audience. The Whelen Euro Series, for example, brings stock-car racing to some of Europe's top tracks – including Germany's Hockenheimring and England's Brands Hatch, in 2018.
From the late 1980s to early 2000s, NASCAR also enjoyed popularity in Australia, where sanctioned races took place at venues like Melbourne's Calder Park Thunderdome and the Adelaide International Speedway.
These days, the Aussies favour their V8 Supercars Championship, which nevertheless bears similarities to NASCAR. Supercars are likewise based on road-going saloons and fitted with powerful – you guessed it – V8s.
Naturally, there are significant differences – and you can head here for a more detailed comparison of specs – but V8 Supercars are still a safe bet if you're looking for a NASCAR-style driving experience abroad.
V8 Race Experiences offer awesome driving days across Australia, so why not get in touch ahead of your next trip Down Under?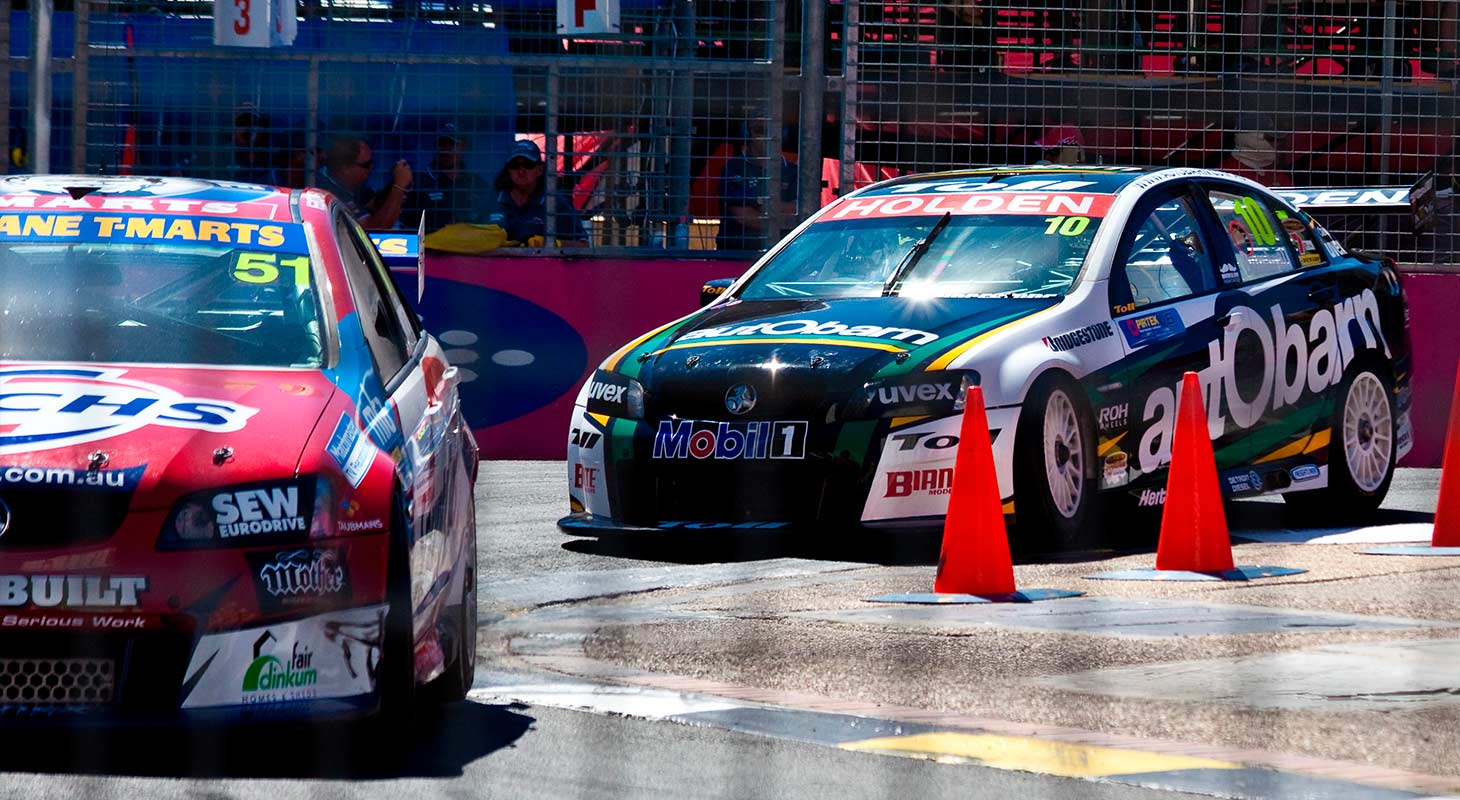 10. Steal a NASCAR Stock Car
Now, obviously, we don't encourage or condone illegal activities of any kind. On the other hand, we are thorough, and stealing a stock car is certainly one way of getting behind the wheel.
Given the kind of money spent on your average race car, you'd assume security would be pretty tight. However, mishaps have happened, and we ought never underestimate the audacity of thieves.
A case in point –
In February 2015, Team Xtreme's No44 Chevrolet was stolen from a hotel parking lot, in Atlanta. The car, its trailer, and the pickup towing them went missing for 24 hours, before they were discovered abandoned twenty miles away.
The thieves had run off with a $100,000 spare engine, and driver, Travis Kvapil was forced to withdraw from the weekend's race. Still, as one crew member put it – 'at least we've got "old faithful" back'.
11. NASCAR Driving Simulators
Ain't nothing like the real thing – or is there?
Today, even NASCAR's top teams use simulators to help determine the right setup for each track. In recent years, these have become ever more sophisticated machines – featuring realistic driver cockpits, full motion platforms, and high definition wraparound screens. Sims, like the one at Ford's North Carolina Tech Centre, enable drivers to log practice laps of virtual championship circuits while their teams gather crucial data.
The bad news is – as far as we can tell – none of these top-end simulators are open to the public. In fact, accessing them is likely more difficult than some of the real-deal options listed above.
Still, there are plenty of less advanced systems which can nonetheless provide a taste of on-track action. These range from home desktop setups, like iRacing, to Sim Xperience's $26,000 Stage 5 Racing Simulator.
And, of course – if all else fails – there are video games. Released in September 2017, NASCAR Heat 2 (for PlayStation 4 and Xbox One) is among the best and features all current drivers, cars and tracks, plus split-screen and online multiplayer modes.
So, there you have it –
Though we may never get to race in the Monster Energy Cup, we might still raise the trophy in the comfort of our own home.
For your writer at least, that'll have to do.
The Chequered Flag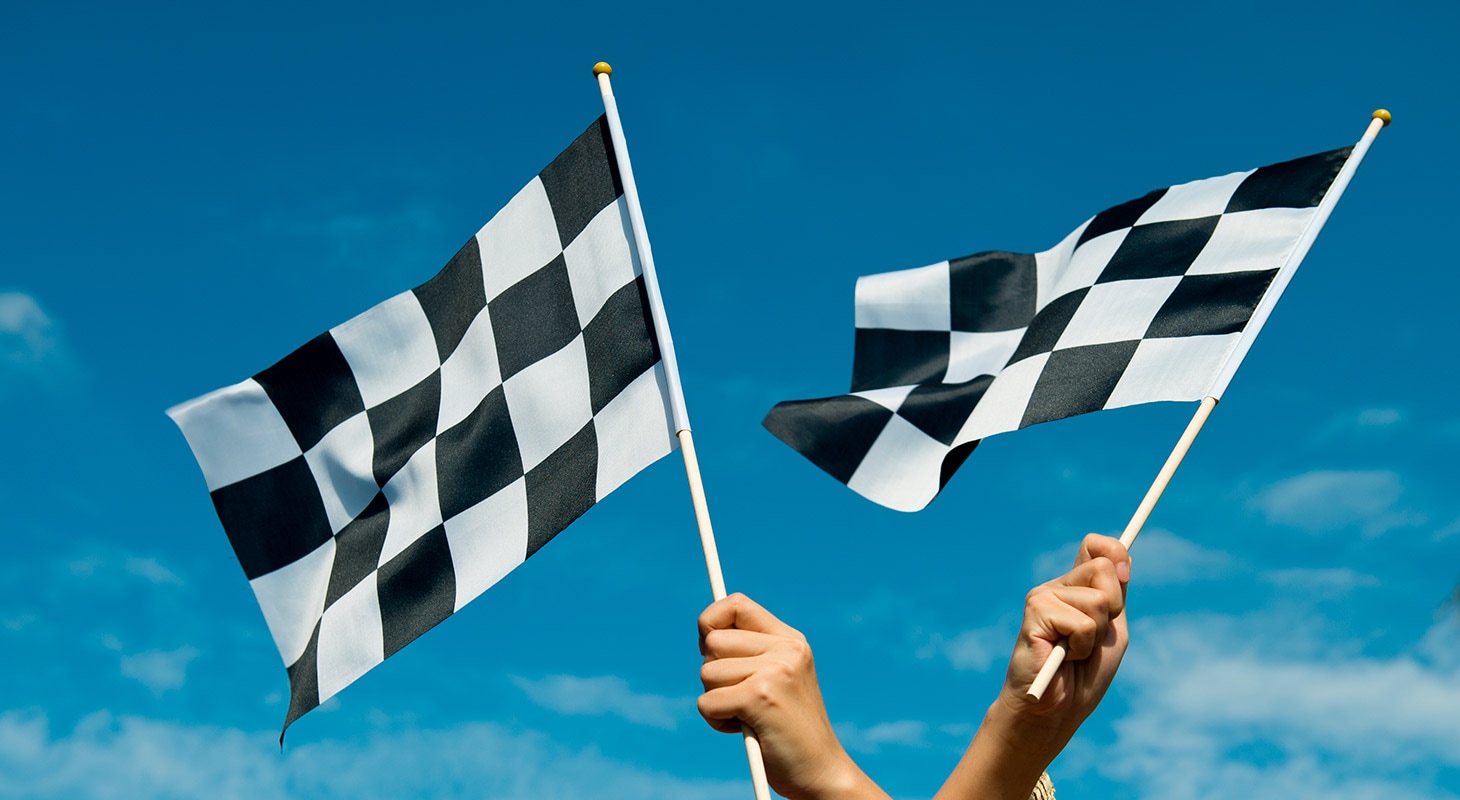 The winner ain't the one with the fastest car; it's the one who refuses to lose.
- Dale 'The Intimidator' Earnhardt Sr.
Well, that about concludes our rookie's guide to driving a NASCAR stock car. Hopefully, we've demonstrated that – with the right know-how and determination – anyone can pursue their ambitions and realise a lifelong fantasy.
Of course, if there are any options you feel we haven't explored – please let us know! We'd love to hear from you, so – whether you've questions concerning Xperience Days' range of NASCAR experiences, advice on building projects, or thoughts on the latest video games – please do get in touch!