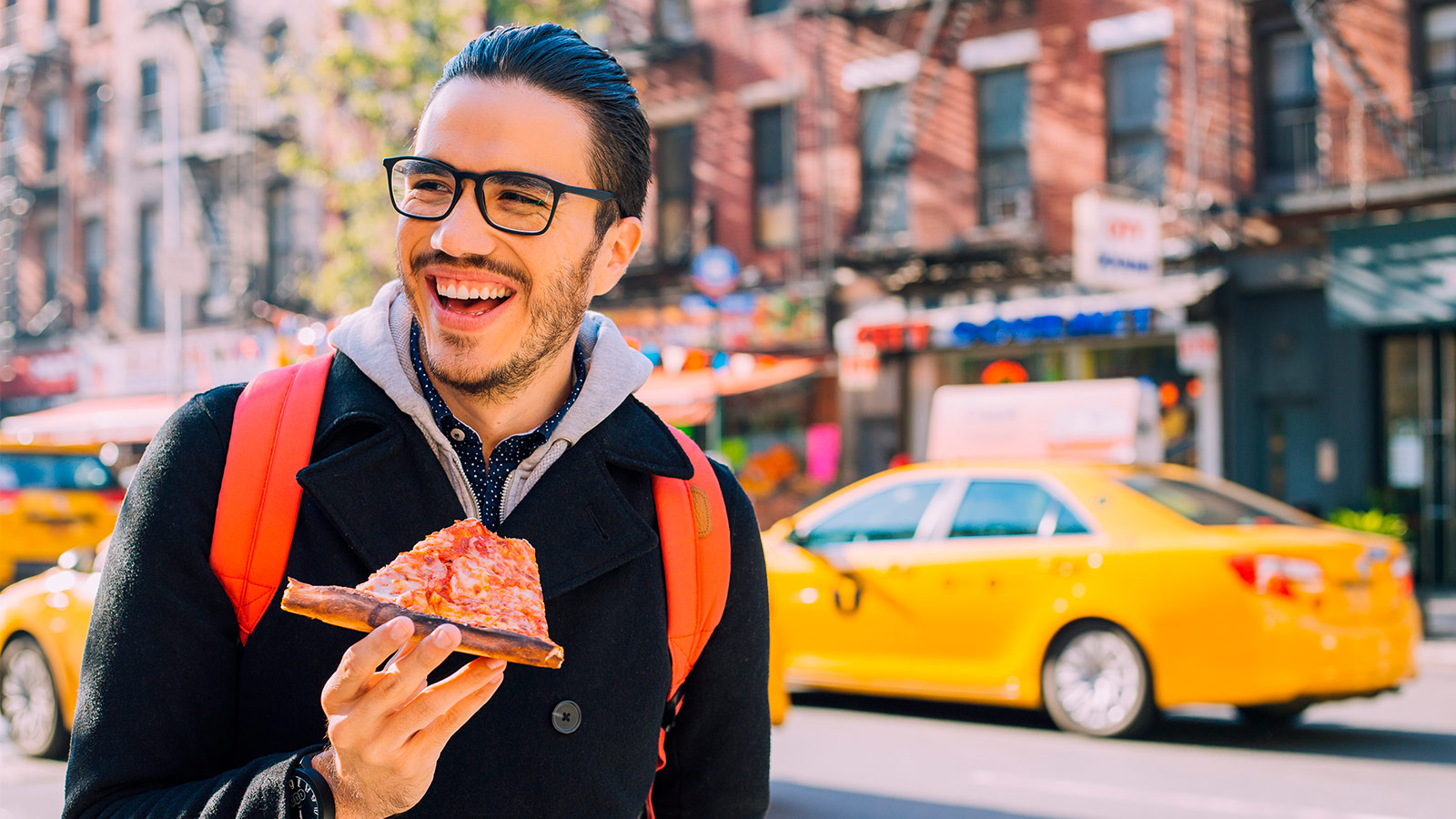 New York Food Tours: The Ultimate Guide 2018
Ah, New York.
What can one say that hasn't already been said?
The Empire City, The Big Apple, The City That Never Sleeps – in this town, clichés are commonplace.
Never is this more apparent than when discussing the city's food. Yes, the term, 'melting pot', may well be overused, but how else d'you describe New York's extraordinary concoction of cuisines?
Throughout its history, the city has welcomed immigrants from all over the world and, with them, their native culinary traditions. Over the years, these have developed alongside one another; intermingling to become something that's quintessentially 'New York'. Today, you can travel far and wide without ever leaving the five boroughs – savoring the authentic (and not-so-authentic) dishes of almost any people or region you care to think of.
And your options don't end there.
This diversity of cuisines is matched only by the variety of establishments championing them. From Michelin-starred restaurants and historic culinary landmarks, to your local mom-and-pop joint, favorite food truck, and everything in between – in New York, 'eating out' can take many guises.
Of course, all this is great news for foodies. In fact, many New Yorkers will proudly declare theirs the greatest food city on earth – and who are we to argue?
However, with such an abundance of choice – in a place where the world's best pizzeria can appear outwardly indistinguishable from the subpar imitator up the block – how does one decide what to eat?
For tourists – and plenty of locals even – navigating New York's culinary scene can be tricky. No one wants to waste an appetite on bad food, especially if time's short.
Well, that's where food tours come in!
Why go it alone and risk a disappointing meal, when you could join an informed guide instead? They've done the hard work for you – seeking out the best bites a neighbourhood has to offer and no doubt sampling a few duds along the way!
Not only do tours guarantee you some seriously tasty food, they're often an opportunity to mix with locals and learn more about an area's unique history and culture. In New York, there are hundreds of different kinds available, so you're once again spoilt for choice!
In this, our Ultimate Guide, we'll highlight some of our favorite New York food tours while elaborating on what makes them such a welcome addition to any foodie's to-do list.
The Rise of the Food Tour
As the above chart demonstrates, interest in food tours has risen steadily in recent years. This increase can be linked to the broader trend for food tourism which, in turn, stems from our ever-evolving relationship with food – not merely as sustenance, but as entertainment, identity, and popular obsession.
Furthermore, food tours' popularity speaks to the modern appetite for authentic, 'live-like-a-local' travel experiences. Wherever they go, today's tourists demand the real deal – a slice of life in a foreign land. Curious locals too, not content with the same old haunts, look to food tours as a handy means of gastronomic exploration.
Given New York's foodie reputation, it's no surprise you'll find more food tours here than almost any other city. This story began in 1993, when Big Onion Walking Tours introduced their Multi-Ethnic Eating Tour of the Lower East Side. For $32, you can still join this journey through historic Jewish, Chinese and Italian neighbourhoods, which includes ten outdoor samples.
Foods of NY Tours was another early pioneer. As a teenager in the late 1970s, the company's founder would roam the city in search of cheap and delicious eats. An idea was born when friends began asking for Todd Lefkovic's dining itineraries, and – after an enthusiastic response to his first newspaper ad – he launched Foods of NY Tours in the Spring of 1998.
Twenty years later, the company's success (Todd now offer six distinct tours and employs more than a dozen guides) is testament to the public's embrace of the food tour formula. Meanwhile, more and more tour providers have sprung up – each, in their own way, showcasing the hidden tastes of Manhattan, the Bronx, Queens, Brooklyn, and Staten Island.
New York's Favorite Foods
From grasshopper croquettes to calf's brain toothpaste – in New York, you'll find dishes to satisfy any craving. Indeed, for adventurous diners, the city offers a smorgasbord of the weird and wonderful.
When it comes to New York's must-try foods, however, most of our favorites are a lot more familiar. Listed below are the true tastes of the Big Apple, including original inventions and renowned interpretations of old country recipes.
Any worthwhile food tour will cover at least a few of them, so pay close attention…
Why Take a New York Food Tour?
We've already touched on the benefits of a professionally guided food tour, but – in case you still need convincing – here goes…
Map of New York Food Tours
The Five Boroughs
For a little context, let's now explore the five boroughs that make up this remarkable city. In this section, we'll highlight some key neighbourhoods, before introducing a few of the best food tour options.
Manhattan
Any round-up of New York boroughs must surely begin with Manhattan. This slender island is where you'll find the majority of the city's iconic sites – familiar landmarks, like the Empire State Building, Wall Street and Times Square. Indeed, it's hard to walk across Manhattan without at times feeling you've strayed onto a film set.
Tourist traps aside, it's also home to some of Gotham's most exciting neighbourhoods and – even more importantly for us – best cooking. As you'd expect, choices are endless and good food can be found almost everywhere. Nevertheless, key food tour destinations include the East Village, Lower East Side, Greenwich Village, Hell's Kitchen, Nolita/Little Italy, and Chinatown.
Brooklyn
Heading south of Manhattan and across the eponymous bridge, you'll soon arrive in Brooklyn. Around 2.5 million people live here, giving New York's hipster borough the feel of a city in its own right. Popular attractions include Prospect Park, Coney Island amusement parks, and views of the Manhattan skyline.
Brooklyn's unique spirit, however, is perhaps its greatest appeal. The borough's historic diversity is manifest in its distinct cultural neighbourhoods, including prominent Eastern European and Russian communities. Meanwhile, its more recent reputation as capital of 'cool' draws artists and innovators from far and wide.
Williamsburg, DUMBO, Red Hook, Carroll Gardens, Coney Island, and Brighton Beach are all food tour stomping grounds.
Queens
Queens is New York's largest borough and the first port of call for those arriving at LaGuardia and JFK airports. Here, tourists can admire architectural relics of the 1939 and 1964 World's Fairs (notably the 'Unisphere', as featured in Men in Black) and cheer on the New York Mets at Citi Field.
Ethnically, Queens is incredibly diverse, with large South Asian, Far Eastern, Latin American, African American and European populations. As a result, it's a fantastic place to try authentic regional cuisine. Join a local food tour and sample the best of Flushing, Jackson Heights, and Astoria.
The Bronx
The Bronx is New York's northernmost borough and home to hip hop, the New York Yankees, and the modern city's true Little Italy. Sightseers head for the world-class Bronx Zoo, Botanical Gardens, and Yankee Stadium, before seeking out some of the city's best red-sauce joints. Likewise, food tours here tend to focus on the Italian American offerings of Arthur Avenue, Belmont.
Staten Island
New York's 'forgotten borough' is noticeably more suburban than its neighbours. Nevertheless, there are still plenty of reasons to catch the free passenger ferry to Staten Island. For one, the 25-minute crossing affords stunning views of Lower Manhattan, Ellis Island, and the Statue of Liberty. On dry land, you'll find top-notch pizza, red-sauce, and Sri Lankan food in areas like St. George and Tompkinsville.
Phew! Now that we have our bearings, let's discuss…
Twenty of Our Favorite Food Tours by Borough
Manhattan
Brooklyn
Queens
The Bronx
Staten Island
Well, there you have it! Twenty of our absolute favorite New York food tours. Of course, there are countless others worth mentioning – and we'll come to a few of them later – but we think that's plenty to sink your teeth into for now.
Instead, let's now consider…
The Best Drinking Tours of New York City
That's right! Not only is the Big Apple a glorious place to eat – it's also a world-class drinking destination.
The nightlife here is legendary, and – wherever you look – the city's past is bound up with its drinking establishments. Glitzy hotels, historic taverns, former speakeasies, and countercultural hubs – over the years, these late-night spots have all witnessed their share of extraordinary events and noted patrons.
Today, they're joined by more and more innovative bars, serving everything from locally-brewed craft beers to natural and biodynamic wines. Indeed, these scenes have undergone a recent boom as New Yorkers' demand for quality booze increases.
It's during cocktail hour that New York really shines, however, and your visit wouldn't be complete without ordering at least one of the following…
Feeling thirsty yet?
Happily, there's a great selection of New York drinking tours designed to help you navigate the city's eclectic watering holes. From the rowdy to the refined – check out some of our top picks below!
As with their foodie equivalents, there's also plenty of self-guided drinking tours for those who'd prefer to go it alone. Nomadic Matt's Prohibition Bar Crawl, for example, is a must for fellow Jazz Age nostalgists.
Finally, and on another note, this Departures article is your go-to guide for finding good 'cawfee'. Trust us - in The City that Never Sleeps – you might just need it.
Only in New York
We're almost ready to wrap up our guide to food (and drink) tours of the Big Apple. However, before bidding you adieu, there are just a few more we must squeeze in.
The following tours are proof – if further proof were needed – that there's nowhere else quite like NYC.
Check, Please!
Well, that about concludes our ultimate guide to New York food tours. We hope we've stirred your appetite and inspired your next foodie adventure.
Of course, there are plenty of other exciting tours out there, and new ones can appear in a New York minute. Therefore, if there's something you think we've overlooked, please get in touch!
Maybe you've just visited the most incredible hole-in-the-wall, or perhaps created an unusual food tour all of your own – whatever it is, let us know in the comments section below!