Experience New York One Bite At a Time
Everybody knows that New York is a food-lover's paradise. Whether you're just visiting the city or you're a native New Yorker, there are some foods that you absolutely have to eat when you're in the Big Apple. The following are some of the best places to experience New York's most quintessential eats. If you're looking for gourmet gastronomy, this is not the guide for you. This is about fast, cheap and cheerful famous New York favorites, and where to get the very best…

The Tastiest Twist
You can't spend a meaningful amount of time in New York without eating a soft pretzel. You just can't. Soft pretzels are a New York staple, and if you're not a fan, we're not quite sure what's wrong with you. The City Bakery has taken pretzel eating to a whole new level with its hybrid Pretzel Croissant. Yes, you heard right. They've created a perfect mix of sesame seed coating, crunchy little salt crystals, soft and buttery inside, and crisp flaky shell. This is one fusion that even the most pernickety pretzel purist can appreciate. Stop reading this and go get one. Now.

View Larger Map

The Nicest Slice
Pizza in New York tastes different – and we think better – than anywhere else in the world (you're still incredible though, Italy). A slice of New York pizza is a slice of New York, and one of our favourite places to get a really tasty slice is Di Fara's on Avenue J in Brooklyn. Zagat's number 1 New York pizzeria for 8 years running, Di Fara's is known for its $5 slice and its perpetually long lines. Luckily for Di Fara's, and you, this is a slice worth waiting for. You can choose from all of the classic toppings and a few exotic ones as well, so whether you're a pepperoni or a prosciutto kind of person, you'll get a slice that suits your tastebuds.

Prime Patty
There are a lot of places to get a really good burger in New York. It's overwhelming. You can spend from one dollar to a couple of hundred dollars on a beef patty with a piece of bread on either side – but luckily, you can stay on the lower end of the scale and still get something really quite tasty. We have to give a special mention to The Shake Shack's succulent cheeseburger, but for sheer 'off the beaten track' deliciousness, you have to try The Burger Joint.  A ramshackle little restaurant hidden behind a curtain in the lobby of the opulent Meridien Hotel, this place is a true diamond in the not-at-all rough. An awesome, juicy, tasty burger will cost you just a few bucks, but be prepared to wait a little. It gets busy.

View Larger Map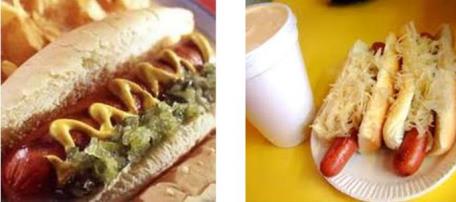 Top Dog
The thing about Hot Dogs it that they can be really, really bad. Quickiemart kind of bad. But sometimes it goes the other way too. If you want to enjoy a mouthwatering wiener, and you're in in New York, you need to stop by Gray's Papaya on 72nd and Broadway. These are the kind of hot dogs that bite – you can honestly feel the 'crack' of the dog as you take your fist chomp. We've heard that you can go here and just have one hot dog, but it's not something we've ever done or are likely to recommend. And if you don't wash your hot dogs down with a papaya juice, you're doing it wrong, frankfurtly speaking (sorry).

View Larger Map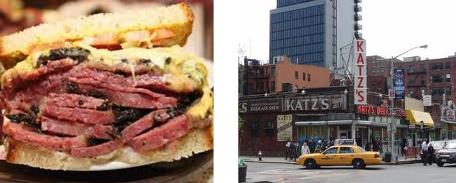 Deli-icious
New York Delis. Like little meat-filled oases in a desert of buildings and business wear, New York Delis are as important to the city's soul as the Empire State building. And their sandwiches are almost as tall, too. Here is how to get the best sandwich in the city;
Make sure you are really hungry
Go to Katz's Deli on East Houston Street.
Order the pastrami on rye with Swiss cheese, mustard, and any other filling that takes your fancy.
Marvel at it for a while.
Eat it.
You're welcome.

View Larger Map

The Big Cheese
When it comes to cheesecake in New York, it's very possible that you've heard of Junior's Cheesecake. Everyone has heard about Junior's Cheesecake. But you may not have heard about Eileen's Special Cheesecake, and we think you deserve to know. Eileen has been baking some of the most sublime cheesecake known to humanity since around 1973, and in the last 40 years she has really perfected her craft. Head to this cosy little cake shop on Cleveland Place, and treat yourself to some of the fluffiest, smoothest cheesecake you'll ever savour.

View Larger Map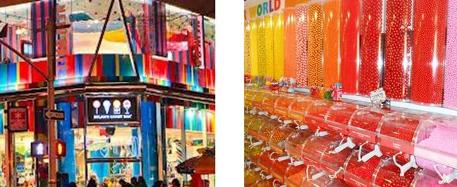 The Sweet Escape
Transport yourself into a multi-colored land of loveliness at Dylan's Candy Bar. Dylan's, on Third Ave at 60th Street, has three floors full of every kind of candy you can possibly imagine. If you're in Manhattan with the kids and you want to bribe them to behave themselves while you do the grown-up stuff, promise a trip to Dylan's if they are good.  We cannot stress how important it is to leave this particular pay off until later in the day; unless you're the kind of person who enjoys trying to manage sugar-filled children.

View Larger Map
If you think you know better, please let us know in the comments. We're always happy to do some taste tests to see if you're right. We're scientifical like that.