Staff Review- Whale Watching in Monterey
The coast of California is well known for its stunningly scenic ocean drives, white sandy beaches, bronzed bodies, and breath-taking sunsets. But, did you also know that a few mere miles from the shores of Monterey Bay you'll find the Monterey Canyon? With a depth and underwater landscape to mirror that of the Grand Canyon, this marine National Park is home to a myriad of weird, wonderful and downright incredible wildlife.
But today I wasn't here to see just any old fish, I was on a mission to find one of nature's most majestic creatures of all…you guessed it, the whale. Despite the extreme fog, and the obligatory warning that sightings can never be 100% guaranteed, I embarked on my journey with a good feeling…and I wasn't to be disappointed!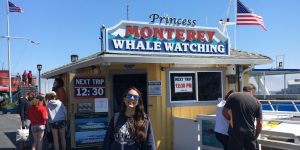 Having booked onto a morning sail, I arrived at the famous Old Fisherman's Wharf before the hustle and bustle of harbour life had finished it's breakfast… strolling along the misty promenade, I made my way to the instantly recognisable yellow hut, and was welcomed by the Princess Monterey Whale Watching Crew.
Once we'd all checked in and signed the visitor register, we climbed aboard arguably the 'finest' vessel in Monterey, the 100ft 'Greatland'. On a busy Saturday afternoon, during peak season, the Greatland is known to carry close to one hundred whale watchers in a single trip, but on a foggy morning such as it was, the first departure of the day wasn't far from empty…but that simply meant more viewing space for us!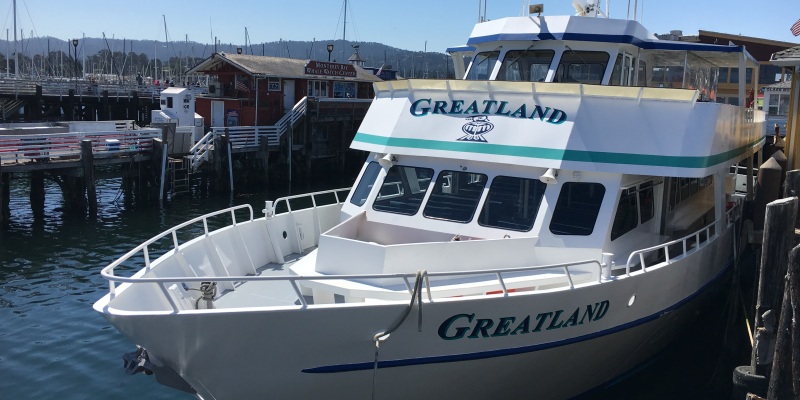 With my zoom lens at the ready and my hoodie zipped up to the very top, I was rearing to go. Before the boat had even left the harbour, we were greeted with the sounds of barking California Sea Lions lounging on the marina wall, and were able to capture a few shots before they disappeared through the mist…not a bad start. But this only made me greedy for more!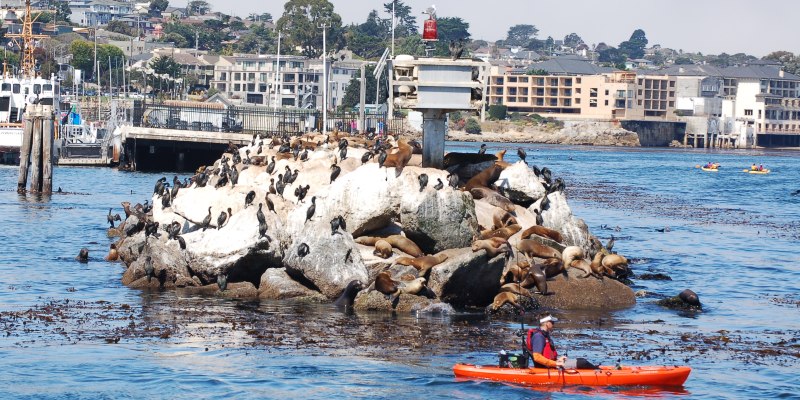 Once we had headed out to the edge of the Monterey Canyon (approximately 30 minutes from the harbour), the voice of our fabulous narrator, Gina came over the tannoy, asking us to keep our eyes and ears peeled for any sign of movement in the water – despite her 15 years of experience, even the well-trained eye needs a little help every now and then! After 10 minutes or so of floating around in the sea spray, straining to distinguish ripple from fin, Gina gave us the announcement we were waiting for… "WHALE AT THREE O'CLOCK!

Clambering to the edge of the boat to get a good viewing spot, whilst scrambling to get my camera ready, I was almost overcome with excitement. And sure enough, there it was, sending a tell-tale blast of water into the air. Not only were we watching a whale, but a Blue Whale – the largest animal ever known to have lived! As if things couldn't get any better, one of our friendly visitors treated us to another rare spectacle…a tale fluke before the long dive! With only around 10% of Blue Whales ever learning to (or choosing to) fluke, I felt incredibly lucky to witness such a special event. Despite sadly missing out on the Humpback Whales and dolphins, I am delighted to be able to say that during my trip with Princess Monterey Whale Watching, I had the honour of seeing not one, not two, but a massive total of FIVE Blue Whales! Bucket list moment complete!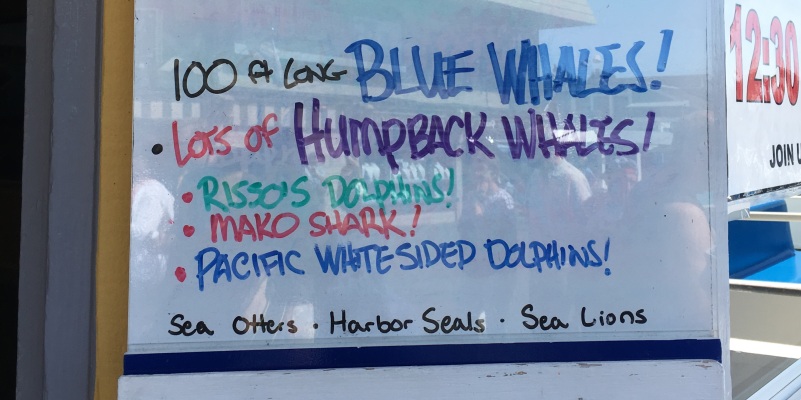 The local wildlife changes seasonally, so if there is a certain creature that you are particularly interested in, then be sure to check the migration seasons. But with Princess Monterey Whale Watching, you're pretty much guaranteed an amazing trip whatever time of year you visit…just remember to pack a jacket!