Countdown to Christmas
'Tis the season to be jolly! Ho ho, ho yes Holiday season is upon us! Not to fear if you haven't started planning your gifts just yet, we've compiled a careful selection of the perfect Experience Days Christmas gifts for you to give to your loved ones…and we'll even let you take all the credit! With six weeks to go, we wanted to provide you with a huge variety of experiences for both him and her, to get you into the Christmas mood and excited for that day when the Christmas tree can be decorated once again! Our six week countdown will kick start along the East Coast – New York, Pennsylvania and New Jersey.

Dead Sea Salt Body Scrub in New York
Price: $70
Treat your loved one to a day of pampering with this spa treatment, specifically tailored for skin. Have them leaving the spa with velvet soft skin after an exfoliation and oily massage. Is there any better way to feel good in your body and skin, especially after all that Holiday food and socializing!?
Super De-Lagging Massage in New York
Price: $95
Visiting family in New York this Christmas? Why not treat your partner to a well deserved massage whilst you're there – go on, give them some time away from the in-laws! This massage treatment is perfect for jet-lag or just an escape from the Christmas chaos. A whole hour dedicated to your partner to relax, unwind and de-stress.
Manhattan Makeup Class
Price: $85
Makeup – someone, somewhere, ever year will receive makeup on Christmas that will inevitably not be opened or used. Why? Because although those handy little eye-shadows look pretty and useful – it's hard to know which shade is our color! This one hour class your partner will feel like a makeup professional, dying to try out their new skills!
Jewelry Making Class in New York
Price: $200
Diamonds are a girls best friend…an expensive best friend. Why not cut out the middle man and help them in creating their own personal jewelry – guaranteed one of a kind pendants and earrings (forget those expensive diamonds). This unique six hour experience is a fantastic gift idea for anyone that loves adding a beautiful accessory to an outfit and it's brilliant as a starting point for a new hobby!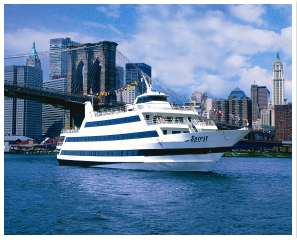 New York Lunch Cruise For Two
Price: $120
If, after that Thanksgiving feast you don't feel you've eaten quite enough yet, escape the Christmas chaos with this lunch for two. This experience couldn't be more suited to a couple in love, looking to extend the Christmas spirit and joy for a little longer over the holidays.
Sailing around the New York harbor for two hours as you dance and dine your way past the Statue of Liberty, the Brooklyn Bridge and the Empire State Building – perfect for a New Yorker or a first time visitor to the city over the Holiday Season.

Golf Lesson in Philadelphia
Price: $90
Find your partner is more relaxed on a golf course, rather than in a pampering spa? This one hour lesson will be just the Christmas gift for them – treat them to a professional lesson which can be tailored for all levels. Through use of video analysis and having plenty of time to practice their swing they will soon find themselves sinking a hole in one and not stuck in the sand!
Learn to Fly a Plane over Harrisburg
Price: $135
Soaring 2,000 feet over the beautiful countryside around Harrisburg you'll get a real taste of being a pilot and taking control of a light aircraft! This one hour flying experience (30 mins flying) is a brilliant introduction to flying and all the techniques you would need to truly become a pilot – and for only $135, it's a great way to start up a new hobby or treat a loved one to a unique experience.
Skydiving Poconos
Price: $220
Jump from a height of 10,000 feet out of a plane located over beautiful Tunkhannock, and free-fall for 5,000 feet – incredible! With a 15-20 aircraft flight and a 5 minute parachute descent (after an unbelievable 40-50 second free-fall) the lucky jumper will have plenty of time to take in the glorious and beautiful surrounding area.
Formula 101 Racecar Driving in Pennsylvania
Price: $389
An experience for the hardcore adrenaline junkies – twelve incredibly intense laps around a circuit, with breaks to refocus and recap on all the major skills and techniques to improve the next lap time. If that's not enough, the lucky driver to be sat in an amazing race car will be able to reach speeds of 100mph!

Cooking Class in Northern New Jersey
Price: $70
Treat your partner or loved one to a two hour culinary class, where they will have the chance to explore their cookery skills. The session will have them cooking up a deliciously healthy and mouth-watering meal.
Stearman Biplane Ride Over New Jersey
Price: $300
Here's an aerial adventure ideal for the adrenaline lovers this Christmas, thirty minutes in the air (add another 30mins for $150), soaring over New Jersey taking in all the glorious landscapes – all from inside a beautiful vintage classic 1943 Boeing Stearman Biplane. Want more? The lucky recipient will be sat next to The Blue Baron – a wonderfully enthusiastic pilot, guiding you around the sky.
Green Flag Driving Experience in New Jersey
Price: $210
Let your partner or loved one loose on a race track this Christmas – fifteen nail-biting laps in an INEX Legends Class Racecar or TQ Midget Racecar. Bring out that little racer inside…or maybe you have someone in mind that wishes they could race their own car – then this gift really is perfect for them. These racecars are made to be fast, aggressive and full of power, ready and waiting for a racer that's eager to let rip on the track.
Feel a bit spoiled for choice? Imagine how your lucky loved one will feel when they receive one of these perfect gifts in six weeks time!
Merry Christmas fellow Experience goers.