Expert Interview with Gondola Adventures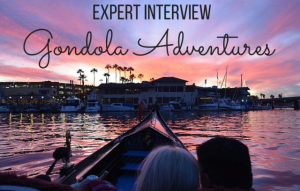 We've been chatting with Elisa from Gondola Adventures this week! They offer the perfect way to relax with your loved ones. -You can indulge further and enjoy appetizers or even dinner on board… now doesn't that sound like heaven? Have a read to find out more about these lovely experience gifts.
Hi Elisa! Please could you tell us a bit about the history of the Gondola Adventures and how the experiences began?
In 1993, Greg Mohr proposed to his then girlfriend (me!) on a gondola in Newport Beach.  I said "yes" and our love of gondolas began. Over the last 23 years we've built our business, always concentrating on seeing things from the passenger's perspective, and providing the highest level of quality – in boats, service, and every other aspect of the company.
What started your passion for this wonderful form of sailing?
Here's a quote from Greg to explain this: "When I proposed to my wife Elisa, I discovered the magic of the gondola.  I realized that it's more than just a ride in a boat.  A good gondolier, on the right gondola, can not only transport you to another place and time, he can create memories that last forever."
What would you say is the best thing about the Gondola experiences you offer?
At Gondola Adventures, we don't just pursue the highest levels of quality and service; we strive to create "perfect moments". These are the times when everything is just right, and while they may only last a short time, you never forget them. You'll tell your children and your grandchildren about them.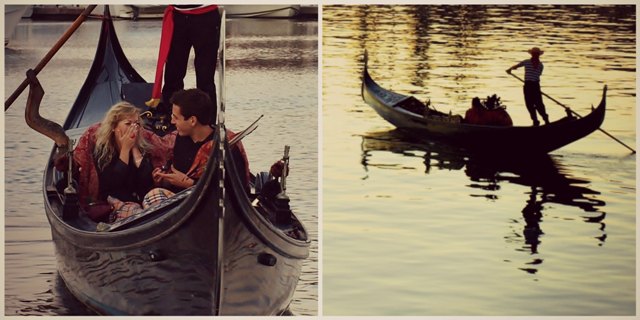 What makes your Gondola tours different from others?
Each of our locations (Newport Beach, Lake Las Vegas, and Irving) has different things to offer.
In Newport Beach, our fleet of gondolas includes true Venice-built boats, including Wedding Gondolas – the highest quality gondolas built in Venice, which are so named because they are the only gondolas used to transport brides and grooms on their wedding day.  These are the only truly authentic Venetian gondolas in Orange County. We also have beautiful mahogany gondolas with white canopy covers, which we say are akin to a horse-drawn carriage ride on the water.
When people hear we have gondolas in Las Vegas, they often assume we operate the boats at The Venetian Hotel. But our Nevada location is 17-miles off the strip in Lake Las Vegas, a beautiful resort and oasis in the desert.  The waterway is scenic and beautiful, with very few other crafts operating on it, and mountains and exclusive homes surrounding the water.
In all locations, our gondoliers are experts at reading their passengers. Many of them sing, and couples are encouraged to kiss under bridges – a Venetian tradition on gondolas. We emphasize attention to detail and a personalized experience that only our company provides.

Are your experiences suitable for everyone?
While many people assume that gondola cruises are just for romantic couples, we get families on our boats all the time; the kids love being out on the water, and sometimes even feed ducks from the boat. We also do corporate lunches and dinners, friends-in-town gatherings, and all sorts of special occasions.
Have you got any news to share with us?
We are excited to introduce our newest boat in Texas – but she is not a gondola! Lady Carolyn is a Lear electric boat made by the folks who built the Lear Jet. She is cruising the waterways in Irving for public lake tours, dessert cruises, and dinner cruises for up to 4 couples.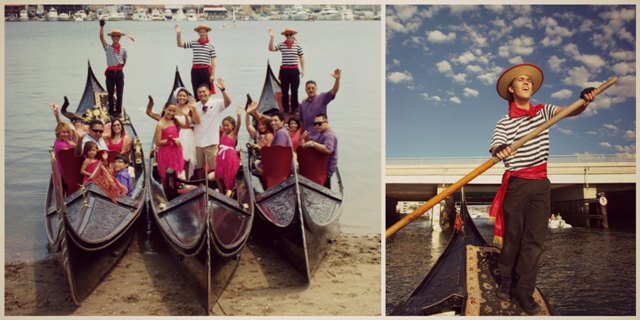 Lastly, is there anything else you'd like to add?
As you can imagine, Valentine's Day is a huge day for us, but we like to say that "Every Day is Valentine's Day at Gondola Adventures." Many of our guests tell us that it is an experience they will cherish for their entire lives. Those words are music to our ears.
Thanks so much for talking with us Elisa! Your gondola experiences sound incredible.