Interview with The Lighthouse Preservation Society

We spoke to James Hyland- founder of 'The Lighthouse Preservation Company', who started the non-profit organisation in order to raise awareness and preserve our lighthouse heritage. The company has since raised nearly $6 million for over 160 lighthouse projects, helping to create a community for supporting this national issue.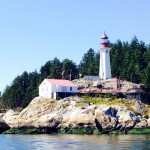 1) Please explain a little about the history of The Lighthouse Preservation Company. Where did an interest in the industry stem from?
 I became interested in lighthouses during the early 1980's when I became aware that all the lighthouses in America were going to be automated by 1990.  The decision to automate meant that all the lighthouse keepers would lose their jobs, and it would be the end of an era.  I consequently aligned myself with a new maritime museum in the Boston area, and began writing grants to document New England's lighthouses.  After receiving some funding, and permission from the Coast Guard to visit all the region's lighthouses, I was off and running in a brand new motorhome that had been donated for my project.  It was a fascinating adventure, with visits to beautiful coastal locations and interviews with interesting keepers with stories to tell.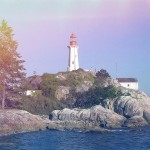 However, I also discovered that with the automation of all the nation's lighthouses, there was no plan as to what was going to happen to these magnificent abandoned buildings, nor was there enough funding for upkeep, or even a mission for historic preservation.  I witnessed and documented many cases of foolish neglect, waste, and abuse.  Furthermore, I discovered that most of these historic buildings weren't even on the National Register of Historic Places, although they all qualified.  Documentation of these buildings was very sparse, and frequently non-existent.
Consequently, I took my concerns to our local congressman, and after seeing my pictures and evidence, he decided to call for a congressional hearing on the subject.  During the testimonies the admiral in charge of Aids to Navigation said that the Coast Guard was $7 million behind in deferred maintenance with little hope of ever catching up.  When the press picked up on this story, it raised national concern for our lighthouse heritage and with direction from the newly formed team of The Lighthouse Preservation Society, which I founded; we launched an effort to save America's lighthouses.  This resulted in a national grants program, a congressionally mandated Coast Guard policy review, the documentation of America's lighthouses for the National Register, the creation of numerous non-profit organizations dedicated to saving local lighthouses, and the establishment of the National Lighthouse Preservation Act through Congress.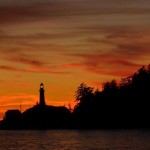 2) How did a passion for dining turn into a career?
 One of our main objectives is to find new and creative ways to save America's lighthouses through adaptive reuses.  For instance, one of our first projects was helping to create a lighthouse inn up in Acadia National Park in Maine.  Another example has been the conversion of an abandoned lighthouse tower into a romantic dining site.  That project is located in Newburyport, Massachusetts, and has become immensely popular.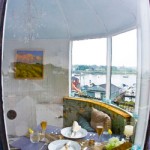 3) What makes your experiences unique and special for customers, do you have any exclusive information you can share with us?
The Newburyport Lighthouse was one of two range light towers used to navigate the narrow channel up the Merrimack River from the ocean, and into the safety of Newburyport Harbor.  Both structures were abandoned back in the 1960's, until we took them over in 1999, and fixed them up.  We currently use the taller Rear Range Light tower to serve the region's most romantic and exclusive dinners.  We don't know anywhere else in the world where you can dine at the top of a lighthouse tower, so this is definitely a one-of-a-kind experience that is totally unique.  It's the kind of place you'll never forget, because the view is so awesome, and the roughly 5 hours that you rent the building for is perfect for quality, uninterrupted, time with the one(s) you love.  Consequently, it is frequently used for wedding proposals, anniversaries, birthdays, and any other special occasion where people want to celebrate the important milestones in their lives.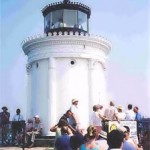 4) What's your most frequently asked question from customers about 'The Lighthouse Preservation Company'?
I think one of the most frequently asked questions about the Newburyport Lighthouse dining experience is "how did you ever come up with such a great idea?"  Well, like many things, it came out of the joint effort of a couple dedicated people who cared enough to work together to create a wonderfully unique space for others to enjoy, and in so doing, helped to save part of our maritime heritage for future generations.