Interview with East Falls Glassworks

Experience Days got the exciting chance to interview Sean Bradley, who works at East Falls Glasworks. East Falls Glassworks ethos is to encourage the art and craft of glass blowing within the Philadephia community, they offer glass blowing classes and handmade glass pieces that are created by local artists that specialize in glass making. Read more to find out exclusive information about the history and future of East Falls Glassworks!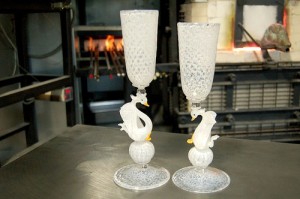 1) Please tell us a little about the history of 'East Falls Glassworks' and how it got started?
East Falls Glassworks opened in 2006 by Artist Jon Goldberg, after taking a class with Italian Maestro Elio Quarisa Jon was inspired to open up a studio in the Philadelphia area.  Since then East Falls has been a place where people can come and learn the techniques and theory behind working with glass.  We employ artists from all over the greater Philadelphia area and from various other parts of the country to come and instruct classes. We also are a place where artists who don't have their own glass studios come to make their artwork, glass equipment is very expensive and a majority of artists can not afford to buy and maintain their own equipment and depend on us to provide them with everything needed to produce their work.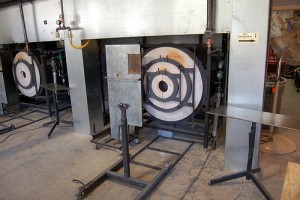 2) What is the best part of your Job?
The best part of my job is teaching total beginners, glass as a material is breathtaking, hypnotizing, and one of the most fascinating materials in existence today, and watching a person's reaction to working glass for the first time is priceless. You will usually hear responses like, "Whoa this is amazing" to the more common " Wow! Thats hot!" Even in adults, a child like wonder strikes in their eyes at the first glance at a gather of hot glass and always takes me back to my first experience with glass. Glass has been around for thousands of years and yet the process of making it is still something many people are unsure about, so introducing people, answering questions, and watching people fall in love with it just like I did is definitely my favorite part of my job.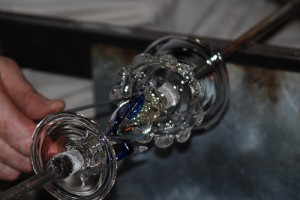 3) Do you have any news about 'East Falls Glassworks' or exciting information or a story you'd like share with our readers?
Recently we had professional Soccer player Danny Cruz from the Philadelphia Union come in and make a paperweight which was a pretty awesome time! Also East Falls Glassworks is coming up on its 10 year anniversary in 2016, we are pretty psyched about that and already talking about having a big event to celebrate it with the community.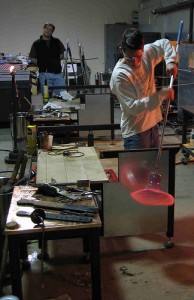 4) What do you think makes 'East Falls Glassworks' experiences unique and special for customers?
We are always updating and adding equipment to the studio on a daily basis, our mission is to create the most comfortable and enjoyable environment possible.  Classes are always running and if anyone misses a chance to register for a class we have private lessons available so they can get right in the studio without having to wait for the next class session to start.  We also hold events like birthday parties and corporate events which are always a blast to see family, friends, and co-workers come in and make glass together. Our doors are open to anyone who wants to learn about glass, or even just watch, we strive to spread the knowledge and love we have for glass to as many people as possible!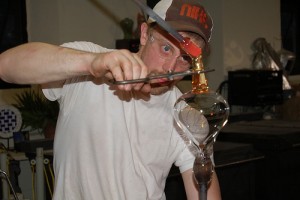 5) What's your most frequently asked question from customers?
One of the most frequent questions asked is " Do you get burned a lot?" Sometimes burns happen, while working glass  you are constantly battling with the radiant heat the glass puts off, as you become more adapted you get more comfortable and aware of the areas when you might be burned.  Another question is "How hot is the glass?" The glass is usually kept in the furnace at a temperature between 2050 F and 2100 F.  This is the working temperature of the glass, but when we refill or "charge" the furnace we bump that the temperature up to 2250 F!
Thank you so much Sean for showing us a glimmer of the glass crafting world!