The Experience Gift Holiday Guide
Everyone likes to come down the stairs on Christmas morning to find a large pile of beautifully wrapped presents under the Christmas tree. An experience gift certificate, albeit a great gift, doesn't take up much of the space under the tree, so here at Experience Days we have found a few little extras you could give alongside the experience voucher.

Chinatown Food and Culture Walking Tour For Two
This great traditional paper and glass Chinese lantern will make a great accompanying gift to our Chinatown Food and Culture tour. On the trip they will be taken to some of the best authentic restaurants in the area where they will be able to absorb some of the culture of this exciting neighborhood. They will see many lanterns decorating various shop fronts as they meander along with the guide, so why not get them a symbol of the culture to enjoy at home and serve as a reminder of their tour!
DJ Lessons in New York, LA or Miami
For the djing music lover in your life, what better way to prepare them for mixing some of their favorite tracks on the decks then to spin their favorite beverage on some classic 12″ labels! These great looking coasters are cut from real Vinyl records and make the perfect gift alongside DJ lessons. Vinyl is where DJ-ing started and these serve as a tribute to all disk jockeys from the past and will inspire anyone looking to start with this great introductory lesson. The lucky recipient will be taught how to beat match and line up records and is sure to get even complete beginners mixing seamlessly!
Boston Chocolate Tour
After exploring the sweet side of town with tours around some of Boston's most popular Chocolatiers, their tastes bud's will definitely be craving some chocolate! The tour does include stop's at some famous local Chocolatier's shops where there will be many chances to try some of their finest creations, but as any chocolate lover will tell you – you can never have to much! These great French dark chocolate truffles will turn any mug of steaming hot milk into a cup of hot chocolate worth lingering over and will be the perfect end to the delicious confectionery experience to enjoy at home!

Flight Lesson In Las Vegas
Apart from being necessary to be able to see up in the skies, sunglasses are a must to get the complete pilot look and the Aviator is the defining style! Made famous by the likes of "Maverick" and "Ice Man" in the film Top Gun, the aviators now play a key part in creating the fighter pilot look and will be the perfect gift to accompany the gift certificate under the Christmas tree. As well as looking the part, the glasses will ensure they can make the most of the spectacular view of the Mojave Desert as up in the skies the sun can be blinding!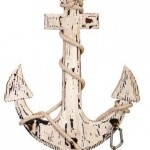 Chesapeake Bay Sailing For Two
If you are considering buying someone a grand sailing experience as a Christmas present this year, chances are they will be fans of all things nautical! This great 24″ distressed wooden anchor key rack could be the perfect addition to their entrance hall, office or study bringing a touch of life at sea to the interior of their home. The anchor can hold keys or small items of clothing such as scarfs, and would be a great reminder of the lovely sailing experience they enjoyed out of Rock Hall Harbor, Maryland.
So there we have it, just a few our favorite ideas for gifts you could give alongside an experience gift certificate. Almost every experience on www.ExperienceDays.com can be complemented with another gift that will give them something else to open on Christmas Day.