Evie in America; Part 1

In June 2015, I (Evie) left the UK Experience Days office and started a fourteen hour journey across the world to visit the US office in Steamboat Springs, Colorado. Take a look below at what we got up to…
---
Day 1: Strawberry Park Hot Springs
Nestled among the vast forest is a natural relaxation haven, in the form of Strawberry Park Hot Springs. We headed up around sunset to catch the best views, before donning our bathing suits and sinking into the hot water – which can be 104 degrees! (That's 40 degrees Celsius to any British readers). There are a number of pools that vary in temperature, but only a few very brave people could handle the coldest one – and even then it wasn't for long! The park has a number of lodges in the surrounding area for those wanting to make a proper trip, or for a romantic getaway, as well as massage facilities and sun loungers for ultimate relaxation. Unfortunately we couldn't stay there overnight, but it's definitely given me some ideas for future vacations to the area!
---
Day 2: Fish Creek Falls & Old Town Hot Springs
Our second day featured a hike up to Fish Creek Falls, a stunning waterfall in the heart of Routt National Forest. Towering 86m into the sky, it really is a mesmerising sight! I was told that Steamboat had had extremely heavy rainfall the month before, so the river was flowing particularly fast, and although you can't tell from the photographs, the sound of the water crashing against the rocks was quite unbelievable. We hiked a bit higher to see some great views, but the combination of altitude and uphill walking meant I couldn't get very far! Besides, there's only so much exercise one should do on vacation, so we headed back to the town for our second natural springs visit of the week, this time at Old Town Hot Springs. This location is slightly more commercial, with swimming pools, slides and rock climbing walls as well as the natural hot water, but still a great place to relax!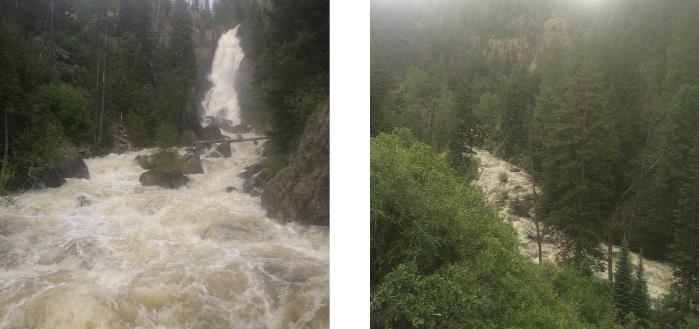 ---
Tune in again next week to see what else I got up to in America!