Evie in America; Part 2
Following last week's blog post, here's what I did over the next few days in Colorado!
---
Day 3: Horse Back Riding and Steamboat Smokehouse
Wednesday was a very exciting day for me – my first time riding a horse! And I promise I'm not just saying this… But I honestly think Steamboat was the best place to have my first time, the weather was perfect, the views were spectacular, and we were taken up the mountain by a real cowboy! The ride took place at Sombrero Ranch, where our guide, AJ, introduced us to our horses (mine was Bailey) and helped us get settled in the saddle. He lead us leisurely up, across, and back down the mountain, asking us questions and telling us all about the history of the ranch. I absolutely loved the horse riding, and can't wait to try it in England! Afterwards, we'd worked up a bit of an appetite, so we headed to the local Steamboat Smokehouse for some traditional American food. I'd never had cheese curds or brisket, and Michelle told me I had to try American ribs, so that's what I went for – and Michelle had fish and chips! There was a live bluegrass band playing as well, which just topped off a fantastic evening.

---
Day 4: Mt. Werner Gondola Ride
Thursday saw us heading another 3,000ft into the air by taking a scenic gondola ride up the mountain. I'd seen some pretty nice views already; fish creek falls, horse riding on the mountain – but this was something else entirely. On the ride itself you sail over rooftops and glide across the trees, then at the top you have an uninterrupted panoramic view of the entire valley, which is truly breathtaking. Thunderhead Lodge sits at the top of the mountain, so we enjoyed some drinks and live music whilst taking in the scenery, before heading back down in the gondola for ice cream!

---
Day 5: Keepin' It Free Concert
We finished the last working day at a free concert situated at the base of the ski jumps, organised by the good people of Steamboat Springs. The main act was The Chris Robinson Brotherhood, and there were a number of food stalls and bars inside the venue to keep us all hydrated while we relaxed on the grass, enjoying the music and sunshine. Michelle explained that essentially the whole town turns up to these events, with one local comparing them to Simpsons episodes, where every character congregates in one place! Following the concert we headed to Sunpie's Bistro, a lovely little bar right on river bank, for dinner and drinks.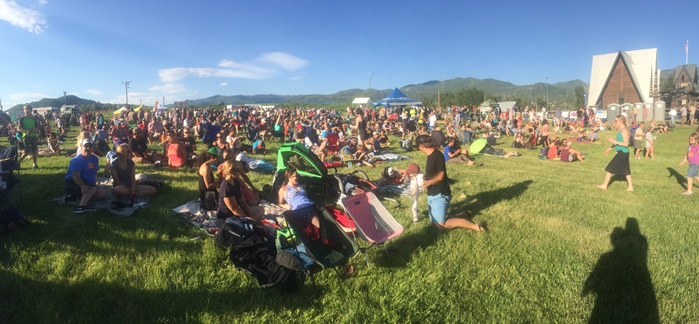 ---
Check here again next week for the final instalment of my American journey!