A Tour of New York Tours
If you are intrigued to experience cultural diversity and explore changing ethnic neighbourhoods then one of our new and captivating tours around the hidden corners and famous sights of New York could be right up your street.
Let's start with the Guided Bus Tour of Brooklyn. Your 5 hour journey will begin in midtown Manhattan where a highly experienced guide will greet you and welcome you and your chosen guest on to the coach. Your journey will take you through New York boroughs ethnic neighbourhoods discovering Brooklyn's hidden secrets and passing by the famous sights including Brooklyn Bridge, Brooklyn Heights and of course Coney Island before stopping to discover artsy Williamsburg. If cultural diversity is what you seek then a Guided Sight Seeing Tour of the Bronx may be more to your taste.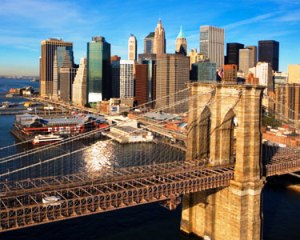 This 4 hour tour will take you and your guest on an exploration through the diverse artistic expression and world famous attractions of the Bronx. Again you will meet your guide in midtown Manhattan and travel on a luxurious coach admiring all the sights from the Grand Concourse, to the New York Botanical garden and even the Yankee Stadium! But before your return to Manhattan you will have precious time to stroll through the enticing gardens overlooking the Hudson River and admire the magnificent cliffs of the Palisades.
If I have not yet managed to win you over and you are looking for something a little bit different, almost a guide with an edge, then the next two tours will have you quite enticed.
Firstly Experience a Gospel Tour of Harlem enjoy 4 hours gaining an insight in to the passion behind gospel music with your chosen guest. This guided tour will enlighten you to Harlem's development from its origins as a rural Dutch community and a holiday location for some of New York's most prominent families. Enjoy a bright and engaging local worship service as you join a soulful congregation for a morning of live gospel music. Your tour will take you past the renowned sights from Columbia University to the Apollo theatre.
However, if soul music wets your appetite that little bit more than gospel music try your hand at the Harlem Soul Food Jazz Tour. Re-live the fresh high-spirited nights of the 1920's and listen as you learn of Harlem's vital role in the history of Jazz music. You will get a taste of the best soul food in town and depending on which night you pick you can jump up and swing to a twelve piece band or revel in the sounds of jazz and rhythm & blues. Your Experience will not end there; you will pass by Minton's playhouse and a few other famous soul spots before visiting Sylvia's the ultimate Queen of Soul Food.
Having taken you on a tour of tours I can't help but feel these new experiences have something to offer just about everyone. New York couldn't express much more diversity and I cannot wait to explore the mosaic of hidden secrets and streets lined with character.