Life is Burritoful

We know how you're all feeling, it's Monday morning, the weekends come and gone and you're now left with those weekend blues, and a long week ahead of you.
So we've decided to put a bit off excitement back into your Monday and start the week right by launching our U.S competition!  And it is Burritoful! (That's a cheeky little hint).
We are all big foodies here in the office (lovers of food) and despite it being summer and trying to maintain that beach body, we do like to treat ourselves every now and then. I guess you could call Friday our cheat day, as we love to take it in turns to go out and pick up different cuisines for everyone in the office to try. Last Friday was my turn and so I decided to treat everyone to my personal favourite, Chipotle, which went down an absolute treat!
For those of you that don't know what Chipotle is (which I know is extremely unlikely) it's a Mexican grill, offering Burritos, Tacos and Bowls, and you get to choose from a variety of options what you would like to put in yours!
I'm one of those people who always sticks to the same order, so this is what I always go for:
A chicken burrito with brown rice and black beans, fresh tomato salsa, tomatillo green-chili salsa, sour cream and cheese! It's delicious!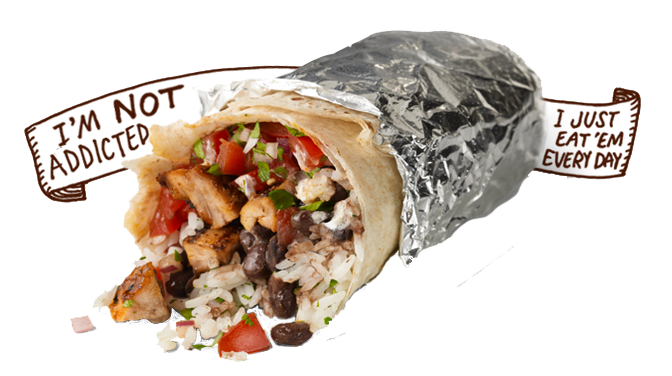 Whilst we were all enjoying our Mexican treats it gave us some inspiration for our next competition idea! So you've probably all guessed by now, and if you haven't you really must be tired this Monday morning, as that's right it's a Chipotle competition!
We are going to be giving one lucky winner a $75 Chipotle gift certificate, and here's the best part, all you need to do is tweet what your Chipotle order is to @experiencedays using the hashtag #Competition #Chipotle, it really is as simple as that!
We will be launching the competition at 4pm today and announcing the winner at 4pm Friday, so make sure you head over to our twitter page https://twitter.com/experiencedays and get your answers in!
Now lets' all get on with some work, and stop day dreaming about Chipotle, at least until 4pm!