Supplier Interview: Urban Oyster Food Tours
In recent months we have noticed a big increase in the popularity of our food tours and last month we spoke to Avi from Hoboken Food Tours to find out why he loves the industry and what makes his tours special. Carrying on with the theme and to get a different perspective, this month we have been talking to our friends over at Urban Oyster food tours to find out why they love New York and its rich multicultural heritage. We spoke to David, one of the directors of the company.

Hi David, thanks so much for speaking with us today. So how long has Urban Oyster been running tours of New York?
We launched our web site and started running regular tours in June of 2009.
What made you set it up in the first place?
We (Cindy and David) both had a passion for history and we had been friends for some time. Cindy was managing tours at the Lower East Side Tenement Museum and David had just gotten his tour guide license and was giving tours of Central Park and the West Village. Cindy had been thinking of starting a tour company for some time and asked David if he wanted to start one with her. The idea was to create a tour company that would give much higher quality tours, more interactive and well researched, than those currently available. There was also a desire to do tours in Brooklyn where they both lived.
What do you hope guests achieve by taking part in a tour?
First and foremost we hope they have a great time and really enjoy themselves. That is always paramount in our minds. In addition though, we hope they take away a new appreciation for neighborhoods and what makes them thrive. Things like businesses owned by residents, committed institutions, and people whose lives are tied to these places. We hope they come away with some great stories as well from meeting these people, which is something we build into all of our tours.
What tours do you offer?
A. Brewed in Brooklyn – The past and present of beer brewing which takes people to both 19th century and 21st century breweries in Williamsburg Brooklyn. Includes a behind the scenes tour at Brooklyn Brewery, lots of beer tastings, and visits to some spectacular architectural vestiges of the neighborhoods German past.
B. Brooklyn Navy Yard – An exploration of what was the premier ship building facility for the country including dry docks and its old, unused, hospital campus. Also a discovery of what is now one of the most sustainable and cutting edge industrial parks in the country including green buildings and roof top farms.
C. Fermented NY Craft Beer Crawl – A culinary class in pub crawl form where people learn all about beer, how to taste it, pair it with food, and identify styles. All while strolling the East Village or Williamsburg and discovering the best beer bars and shops in the city.
D. Food Cart Tours – A food tour that takes people to the best food carts and trucks that New York has to offer in either Midtown or the Financial District. They will taste food from around the world, learn how the carts operate, meet the owners, and discover why some of the best food in NY is on the street.
E. Immigrant Foodways – Explores the Jewish past and Latin American present of East Williamsburg – a thriving immigrant neighbourhood for over a century with markets, butchers, and restaurants. People will journey with their taste buds as they sample an array of Latin delicacies while meeting the immigrant entrepreneurs that make the neighbourhood tick.
F. Neighborhood Eats tour of Brownstone Brooklyn – New York's culinary heart has crossed the East River and moved to Brooklyn. This tour explores the food utopia that gets created when old world Italian and Middle Eastern shops are mixed with New American chefs and shops. The result is delicious as people discover on this tour while eating and talking with shop owners.
What makes your tour guides special?
The tour guide makes the tour. That's our belief. We hire tour guides that are passionate about the subjects of their tours and then we invest months of training to make sure they know it inside and out. We also make sure we hire fun, personable people too because that's what this is all about. We feel lucky to have an amazing team of guides.
Have you had any famous faces?
Hmmm, Only the kind that history nerds would recognize! Ken Jackson brought his Columbia University class on a couple of our tours. Our market is really locals and I don't know that celebrities take a lot of tours. We'll have to work on this one.

What sets your tours apart from the others?
Three things:
i. They are interactive. You listen, you see, you touch, you taste, and you smell. They are not just about listening to some guide rattle off facts. It's about really experiencing a place
ii. They are thoroughly researched. We spend months in libraries, historical societies, etc. making sure that we are giving you accurate info and that we are also digging up the stories that you won't hear anywhere else.
iii. Most importantly. You meet people. We take you into the businesses in neighborhoods and introduce you to owners, managers, and staff so you can get to know them personally. You can talk directly to the people who live there. Most tours you just hear about those people. On our tours, you meet them.
Do you have a favourite tour you like to lead most?
This is like asking who your favorite kid is. No, we love them all.
Do any tours you have taken part stick out in your mind as more memorable?
There are a lot but one that we always talk about is we had someone come on our Brewed in Brooklyn tour who actually grew up in that neighbourhood and moved away. As we were walking down the street his childhood friends saw him from their building windows and started shouting to him. It was a funny moment and he was amazed at all the history that there was in his neighbourhood that he never knew growing up. He had no idea and it was really satisfying to be able to create that kind of awareness for locals.
Are there any new tours in the pipeline?
Always but we are taking the year off from adding tours. We added four last year and now we are just concentrating on improving the ones we have. One tour that actually ran once last year as a special tour but will probably be added to our regular line-up is a spin-off of the Brewed in Brooklyn Tour called our Brewery-Winery-Distillery Tour. Williamsburg, Brooklyn may be the only place in the world where you can walk from a brewery to a winery to a distillery in the space of about 8 blocks. So we're taking people to all three where they'll see how each is made, get a tasting of each and also learn all about the history of all this beverages in New York. That one should be up by the summer.
That's great, thanks for speaking to us today David. If you like the sound of the tours and feel intrigued by the culinary secrets hidden around Brooklyn then check out these Urban Oyster tours available on Experiencedays: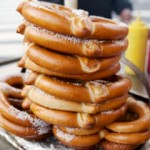 NYC Food Cart Walking Tour
Price: $90
The mobile food carts that are dotted around New York have become a staple part of the city scape and having moved on from street meat to haute cuisine, this tour takes in all they have to offer. You will enjoy a strolling lunch around Midtown or Downtown Manhattan as you wonder at the genius that has managed to fit a full working kitchen into a tiny cart! The tour will provide you with not only an insight into the tasty international food available in the Big Apple, but some of the history of the one of the greatest cities on earth too.
Experience Includes: Walking tour of New York, taste a selection of international food, expert guide
Where It's Located: Midtown or Financial District, New York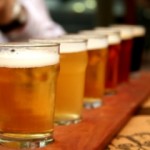 New York Craft Beer Crawl Tour
Price: $130
With over 1,500 craft breweries nationwide, appreciating the delicate tastes has become an art form in itself! On this tour an expert guide will lead you on a discovery adventure through some of the city's finest micro-breweries in either Brooklyn or East Manhattan. Throughout the tour you will learn how the beer is created from start to finish, distinguishing between the flavours and how to fully appreciate the varieties. Throughout the three hour walking tour you will learn a keg full of interesting facts to wow your friends and family with.
Experience Includes: Insightful tour around craft breweries, taste a selection of quality local beers, learn some inside secrets of beer
Where It's Located: Brooklyn or East Village, New York