Top Ten Gifts for Dad: Los Angeles
Father's Day is in sight: with only five days to go until the day devoted to our dads comes around, we've put together ten of our favorite experiences in Los Angeles. What could be better than sun, sea and a top gun aerobatic flight?! Well, we know how adventurous some of your dads are and with so many fantastic things to give him this Father's Day, we want to help you give him the best gift possible.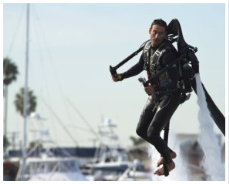 Newport Beach Jetpack Flight Experience
Price: $199
Starting with sea, sand and beautiful sunshine is one of our newest experiences – Jetpack flying on the water! Imagine strapping your dad into a jetpack and watching him hover 30 feet in the air! He will learn how to do donut turns, walk on water, hover, and many more basic manoeuvres  With all that excitement, make sure you remember to take photos, as we're sure he'll find himself splashing around a fair bit. Your dad will have 15-20 minutes of flight time to get hooked on this adrenaline-pumping activity.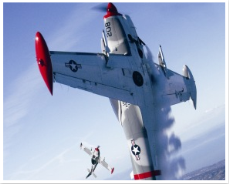 Air Combat Dogfight
Price: $1,395
If you didn't think jetpack flying was quite extreme enough to settle your dad's extreme-ometer, then why not send him to the skies in a Marchetti S260!? A whole hour of loops, spirals and impressive aerobatic formations in the air make this a thrilling flying experience. It's will blow your dad away and leave him with incredible memories … well, until next Father's Day when you have to go one better and buy him in a plane! We joke, but with this experience he can watch back his flight again and again on his own recorded video! Brilliant … you can keep that plane money for yourself!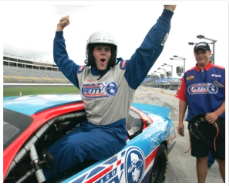 Drive a Stockcar
Price: $474
Another thrill-seeking experience for the go-getter dad; this time, racing around a superb track in a stockcar! You wouldn't be treating your dad to just one lap … oh no, he would have an unbelievable eight laps around the speedy race circuit! Strap him into a 600 hp NASCAR and let him enjoy the race track for Father's Day. He'll start his day learning about the safety of racing and all the fundamental training bits to set him up for the thrill of a lifetime. The 358 cubic V-8 racecar will speed away from the starting line, leaving your dad with a heart-racing experience.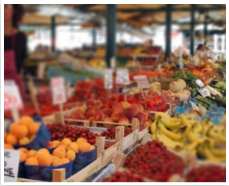 Los Angeles Food Tour
Price: $106
Take a step back and breathe after all those adrenaline-pumping-experiences, as it's time to bring you an experience any dad with a hearty appetite will love. Bring on the food tour around Los Angeles – three hours of tasting and learning about the scrumptious treats LA has to offer. Stopping in at around eight cafes and restaurants, your dad will really get a taste of LA and all the delights he may not know about. Delving into the history and culture behind the yummy food, your dad will soon know all the hot spots to go to when a well needed meal is in order.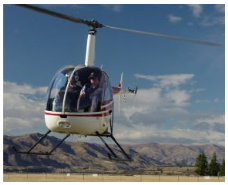 Hands-On Helicopter Flight in Los Angeles
Price: $145
Here's a thirty minute flight lesson where your dad will get to take the controls of a helicopter and hover over the beautiful sights of LA. Your dad will learn the important controls and how to read the gauges in a Robinson R22. He will also be taught how to check over a helicopter to ensure it is safe to fly.  After this unbelievable lesson your dad will feel like a true pilot and be dying to jump back in the pilot's seat to take the helicopter for another adventure. Whether he has boarded a helicopter before or not, this flight lesson experience will leave him speechless.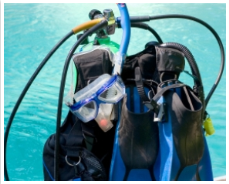 Orange County Scuba Certification Course
Price: $299
Treat your dad to a brilliant introduction to scuba diving, with not only one class to get him into the water, but six sessions. Each lesson lasts around two hours, giving him plenty of time to get his scuba skills up to scratch to become a certified scuba diver!  The six sessions will have your dad learning about the fundamental points of scuba diving and going on to perfect his breathing skills and all the underwater techniques he'll need to succeed as a scuba diver. This Orange County Scuba certification course is a brilliant gift for a dad with a passion for aquatic adventures.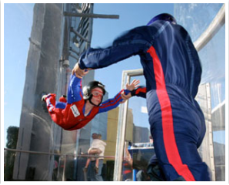 Los Angeles Indoor Skydiving
Price: $120
Spend Father's Day with your dad and experience the thrill of a skydive… but from the ground in a wind tunnel! The certificate is made for two, so you can both enjoy watching each other as you freefall and experience winds of up to 160mph. The amount of time you'll be freefalling for is equivalent to that of three skydives, so it's brilliant for a dad with a fear of heights! Don't just take our word for how great this is though: Barb claims it to be the 'next best thing to being an astronaut'! Make sure you take a camera, as you'll definitely want proof of your dad doing this one!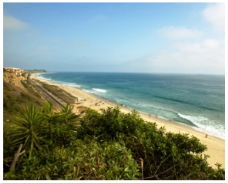 Orange County Helicopter Tour
Price: $199
Treat your dad to a twenty minute helicopter ride touring over the stunning views of Orange County. Whether he has seen the whole of OC before or not, this is a great way to explore from a whole new angle … and even better, from a helicopter! He'll get an insight into the world of elite golf clubs, luxury homes and the famous OC beaches, all from a bird's eye view – what an incredible way to do it. This scenic helicopter tour is a great gift idea for a dad who loves to explore and has an adrenaline junkie side.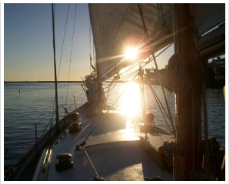 Marina Del Rey Dinner Sail for Two
Price: $580
When it comes to treating a loved one, sometimes it's nice to let them treat someone else too right? Well, why not treat your dad to a romantic dinner sailing trip for two? With this two hour experience, he and his guest can enjoy floating around the beautiful Marina Del Rey and even be treated to a wonderful cooked Italian meal. And did we mention … this voyage is a private trip, so there are no interruptions to the delicious meal or relaxation aboard the beautiful wooden sailing yacht. To really top things off, this wonderful trip ends with a champagne bucket! Need we say more…?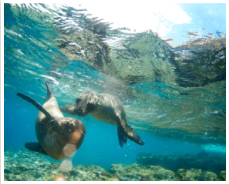 Catalina Sea Lion and Dolphin Cruise
Price: $76
We've had driving days, flying expeditions and sailing trips… but what about the dads with a passion for animals? Well, this Father's Day you could surprise your dad with a certificate for two to explore the Catalina waters, looking for sea lions and dolphins! The experience has already had some brilliant feedback, including this five star review from Alex:
"This was a great tour! Amazing captain, very informative and fun! We saw lots of sea lions and dolphins!"
So there you go, ten amazing gift ideas in Los Angeles that are bound to have your dad feeling like number one this Father's Day. Happy Father's Day!