USA Pro Challenge Returns to Steamboat
08/21/2013
It's an exciting week in Steamboat Springs, the annual USA Pro Cycling Challenge is once again passing through town, right outside our office!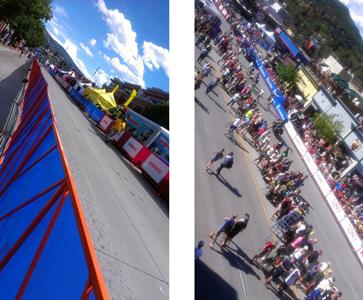 First taking place in Colorado in 2011, the USA Pro Challenge is a professional stage race completed by 16 international teams covering an elevation change of approximately 42,000 feet and over 500 miles of Rocky Mountain terrain. It was first announced by Colorado Governor Bill Ritter and Lance Armstrong in 2010, and aims to promote the cycling legacy of the state. The race holds great importance in the U.S, being significantly tougher than other races due to the breath-taking  altitudes, and beauty of the Rocky Mountains landscape.
Since the race didn't pass through town last year, we're very excited to have it back! It all kicked off on Monday in Aspen, where the cyclists started their race in the stunning surroundings of Snowmass before heading to Breckenridge in the second stage. The third stage started at 12:10pm and the cyclists were thought to reach Steamboat around 4:30 PM, we were all eagerly anticipating their arrival!!

08/22/2013
Wow! What a finish to Stage 3! The winner of the third stage was Peter Sagan from Slovakia. With 1.8 miles left, Sagan caught up with leader Jens Voigt, from Germany, to take the lead at the foot of Rabbit Ears Pass, and eventually win the stage. This means the overall leader currently stands as Lachlan Morton, from Australia. We also witnessed a crash at the head of the Peloton, only a few miles out of town – you can't deny the Pro Challenge is full of action!
Not only was there the race to see, there was also a BMX contest, a pool for water sphereing, and hundreds of spectators – some in great fancy dress as is the tradition!
The atmosphere was intense when the contenders came flying through the finishing line, the cheers from the crowd and the cow bells could be heard for miles! It was a brilliant day and I sincerely hope the Pro Challenge comes to Steamboat again next year.
From everyone here at Experience Days, good luck to the cyclists on Stage 4!